Viñales confidence grows on day two in Qatar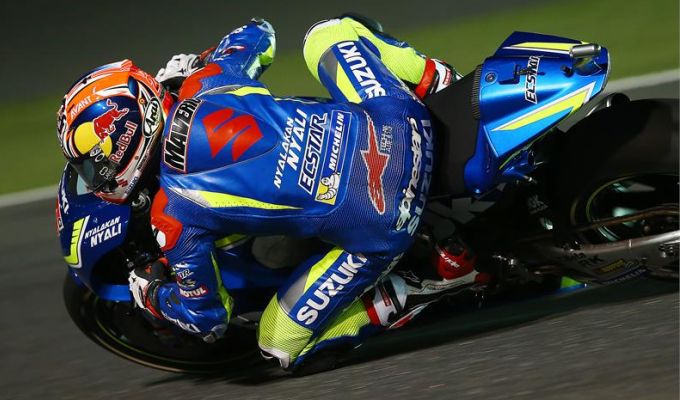 Maverick Viñales' confidence has improved as the Spaniard ended the second evening of free-practice fifth fastest overall. 
The 2015 MotoGP Rookie of the Season has been flying since the MotoGP field switched to standard Magneti Marelli software and Michelin tyres. Along with the changes to the regulations, Suzuki have bought new parts to their GSX-RR including a new engine and a seamless shift gearbox, all of which helped Viñales become one of the stories of the pre-season.
The Spaniard has carried that form into the opening round of the season, as he ended the second evening of testing just 0.337 seconds behind the fastest time of free-practice set by Factory Ducati rider Andrea Iannone. 
When the first official test on the Michelin tyres took place, almost all of the riders struggled with the new front tyres, Viñales however has had no such issues with the front end of his Ecstar Suzuki. The grip and feeling he is getting from his bike is allowing Viñales to regularly ride on the limit, helping him put in the fast laps. Viñales said his confidence has continued to grow when getting back to the pit and seeing his name regularly in the top five.
"Our bike is always good in the front so if you try to push more, the bike advises you where the limit is, which is really good because we can know where the limit is. This is a really positive thing," explained the Spaniard.
"I feel so confident on the bike, I have a good feeling and when I go to try and lap at race pace, say in the 1'55's I feel confident and good.
"We're aiming for four or five [laps in a qualifying run] and if we can do it, that'll be perfect. It will be very difficult, but we will try and if we can do it, then for sure we will be competitive in the race. When I'm 11th I feel much more nervous than I do when I am five. I feel great when I'm near to the top."
Despite regularly finding himself inside the top five, there are still areas of improvement for Viñales, namely with the electronics to help find stability at the rear end.
"For tomorrow we still need to improve the electronics because I have some problems when I go into the corners," he said.
"The rear starts to slide, so we need to set-up the engine braking, but we're ready for the race. We know the others will improve, so we need to too."
Photos via Suzuki-Racing.com