Rear tyre issues deny Rossi a shot at race win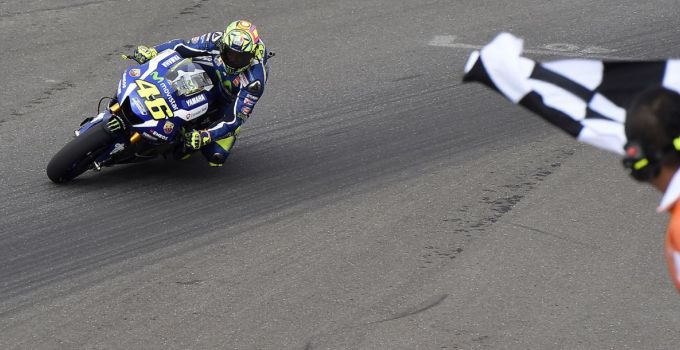 Valentino Rossi's chances to battle for victory during Sunday's Argentine Grand Prix was robbed due to a rear tyre issue with his second bike.
After tyre issues in free-practice four and a dry morning warm up session, the race had to be divided into two half's, with a mandatory pit stop to be had at in between a three lap window in the middle of the race. 
Marquez had been the early leader in the race, however Rossi's bike seemed to be coming to him shortly before the mandatory pit stop window. Rossi went into the stops right on the rear tyre of Marquez, but ended up coming out of the pits more than two seconds behind the Spaniard.
When he came back out, Rossi found himself behind Tito Rabat allowing Marquez to get further ahead. When Rossi was eventually freed, a lack of rear tyre feel prevented him from lapping at a time giving him a chance to compete for the win.
"I was very happy to do the second part of the race because I was able to have a good battle with Marquez during the first part when I was strong and we started to overtake, but with the second bike I had big problems with the rear tyre, I didn't have any feeling and couldn't stop under braking," explained the Doctor.
Rossi's rear tyre struggles looked set to deprive the Italian of a podium when Maverick Viñales looked set to get ahead of Rossi. After the Spaniard crashed it, it then looked as if the two factory Ducati's would take the final two podiums spots, before they came together at the final corner, allowing Rossi to gratefully take the second place.
"Iannone overtook me a bit too aggressively and in that braking point his action was too strong and it was impossible to overtake so I went wide and he passed me," he said.
"I said to myself: "Now what happens?" I tried to counterattack, but I didn't have enough grip or speed to make a move, so I stayed behind him and when I saw that Iannone tried to improve his position and go under Dovizioso, he unfortunately couldn't stop and took out also Dovi, so I was very lucky to arrive in second place."
Before Sunday's race, Rossi had said that racing Marquez would've been tough, and that a podium was a much more realistic target. After Sunday's second place, Rossi admitted he was happy with his weekends work overall. 
"The conditions were very difficult after the rain last night and we were back where we were on Friday when we were struggling quite a lot with our bike, so these 20 points are very important and I'm very happy for me, Yamaha and all the team because it's the first podium of the season, it's a good result. I was pushing and very close to the limit," said the Italian.
Photos via Movistar Yamaha