Lorenzo: It was a weekend to forget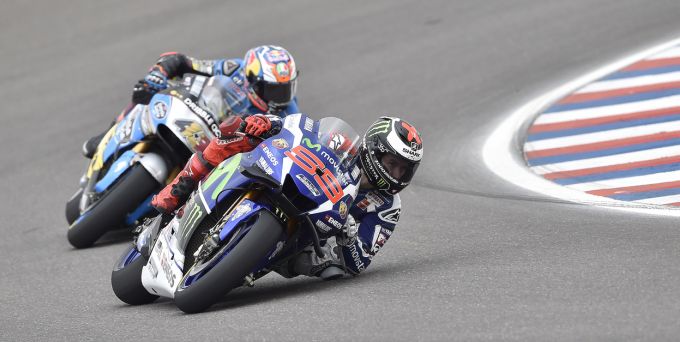 After crashing out of Sunday's Argentine Grand Prix, reigning World Champion Jorge Lorenzo described it as a weekend to forget.
The Spaniard arrived in Argentina as the series points leader after claiming victory in the season opener in Qatar, however he suffered a hard weekend in South America. 
After ending the first day of free-practice in fourteenth position, Lorenzo and his Movistar Yamaha team finally found something that saw him claim third position in qualifying. 
Sunday however was much closer to Friday than Saturday for Lorenzo. Overnight rain meant track conditions were difficult and slippery. Whilst the race started as a dry race, there were still large wet patches on the track.
It was one of the wet patches on the first corner that caught the World Champion out. Lorenzo tucked the front end of his Yamaha M1, crashing out of the race on the sixth lap.
"It was a weekend to forget. We had problems during the practice sessions and finally we got a first row in qualifying and a good start, but with these conditions and wet patches in some corners I wasn't comfortable,"explained Lorenzo. "I think it was my fault."
We've lost the world champion #JL99 https://t.co/XZBHF5Mrm7

— GPxtra (@GP_Xtra) April 3, 2016
Despite losing the front end of his Yamaha, Lorenzo had gotten off to a shaky start. The Spaniard was down in sixth place, detached from the front group of Marquez, Rossi, Viñales and the two factory Ducati's when he crashed out of the race. Lorenzo admitted he was struggling to find feeling with his bike and was a little too impatient to wait for the feeling to come back to him and his bike.
"As a rider I didn't feel comfortable enough to stay in the first group and I saw them risking so much," he said.
"I made a mistake in the first corner, which was more complicated, it was the corner with more wet patches and I went in a little bit too wide on this particular lap and just lost the front and couldn't continue.
"This is racing; sometimes you win, sometimes you lose. You have to accept it and think positive, just forget this race and think about the future."
It was very slow & I didn't have the patience to wait for a better understanding of the track.A race to forget #JL99 https://t.co/KX43uCknK6

— GPxtra (@GP_Xtra) April 3, 2016
Photos via Movistar Yamaha