Viñales devastated to crash out of podium spot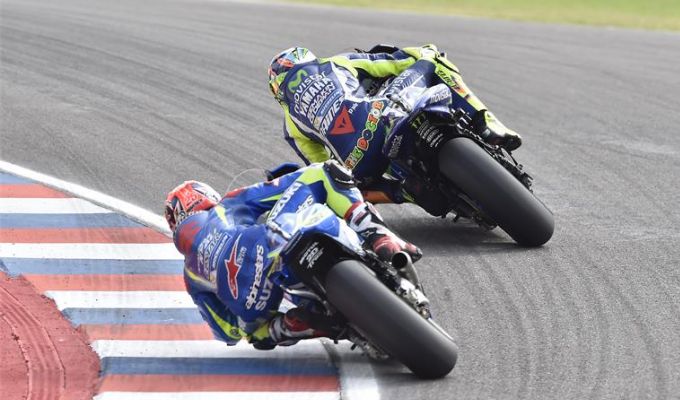 Maverick Viñales admitted he was very sad to have crashed out of a podium position with just three laps to go.
Sunday's Argentine Grand Prix was a controversial one with the race being split in two half's with a compulsory bike switch in the middle of the race.
Viñales was on course for his first ever MotoGP podium before he crashed his Suzuki GSX-RR. The Spaniard was all over the rear of Valentino Rossi's Yamaha M1, looking as though a pass was imminent before he touched a wet patch and lost the front end of his Suzuki. 
The 21-year-old was understandably upset with the crash, however he remained pragmatic and very happy with the pace he had shown before the crash.
"I'm both very sad and very happy. Of course I'm sad with the final result, but I must be very, very proud of what we did," explained Viñales.
"For the whole race I could fight at the top and also I felt I had the pace to overtake for the second place. After the bad warm-up, the race was going very well and it's a pity I couldn't finalise it.
"Unfortunately I hit a wet spot, going just a very little wider than the ideal line, and I paid the biggest price. It's hard to accept the crash when you feel so good and feel you can really get onto the podium, but at the same time this is the proof that we have made a huge progress and we are now ready to fight for the top."
Viñales was consoled by his manager Aki Ajo after returning to the pit in tears after crashing out of 3rd #MV25 https://t.co/kWfcownDJh

— GPxtra (@GP_Xtra) April 3, 2016
Viñales had admitted prior to the start of the season that his aim for the season was to consistently be in the top six. With the pace shown this weekend, the Spaniard leaves Argentina encouraged he can achieve the targets he stated at the beginning of the season.  
"My objective continues to be the realistic –top-six – but this weekend is the proof we can expect some highlights and for sure I will take any chances that will happen to me. We're getting more and more experience, this will pay back in the short term and I'm confident that Austin will already be a good chance to fight again at the top."
Photos via Suzuki-Racing.com