Suzuki admit keeping hold of Viñales will be tough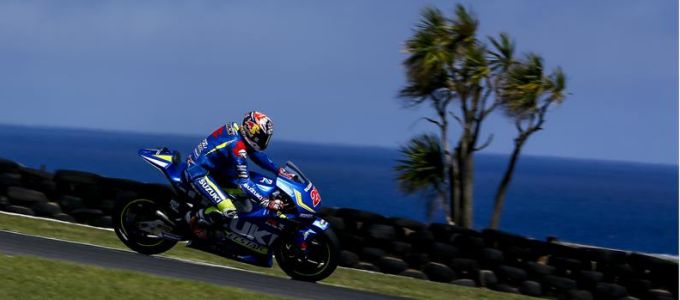 Suzuki have admitted that keeping hold of prised talent Maverick Viñales will be tough after his initial two-year contract expires at the end of 2016. 
The 2015 MotoGP rookie of the year impressed massively during last weeks second MotoGP test from Phillip Island where his best time from day two was good enough to see him end the entire test fastest overall. 
Viñales has a two-year contract with Suzuki, with an option of a third should requirements be met and the Spaniard wish to extend with Suzuki for a further season. However, Honda and Yamaha have both shown a strong interest in the 2013 Moto3 World Champion, with Honda already in contact with Viñales' personal agent Aki Ajo. 
With nearly every rider's contract expiring at the end of 2016, Viñales may want to take the opportunity to synchronise his contract with the other factory riders on the grid by opting not to take the one-year contract extension. If he does decide to renew his contract with the factory from Hamamatsu, he may elect to stay with them until 2018 to ensure his contract aligns with the other factory contracts.
Suzuki will be hoping that the promise shown in Australia, along with the more powerful engine and new seamless gearbox will be enough to convince the 21-year-old that Suzuki are going in the right direction and that he can achieve the results he wants aboard the GSX-RR. 
"Our intention and our goal is to extend the contracts of Aleix and Maverick, for at least another two years," Suzuki MotoGP Team Manager, Davide Brivio said in an interview with speedweek.com.
"We are very happy with the two riders. Maverick is an important element for Suzuki. We hope that we can plan for the long term. We're aware that he's an extraordinary talent and that he's very ambitious. The solution is simple; we have to give him a good bike and convince him that he can achieve the success he wants with our bike."
If Suzuki were to lose Viñales at the end of 2016, then Brivio admits that it would be a huge loss for Suzuki going forwards.
"Maverick is very important for our team," he said. "When we started this MotoGP project, we were very careful in our choice of riders. We want riders with a lot of motivation, who're also proud to race for Suzuki.
"Maverick was thrilled to come into the MotoGP World Championship and to learn as quickly as possible. Maverick is a valuable asset for us. We want to win with him and Aleix."
Photos via Suzuki-Racing.com