Marc Marquez: It's a special win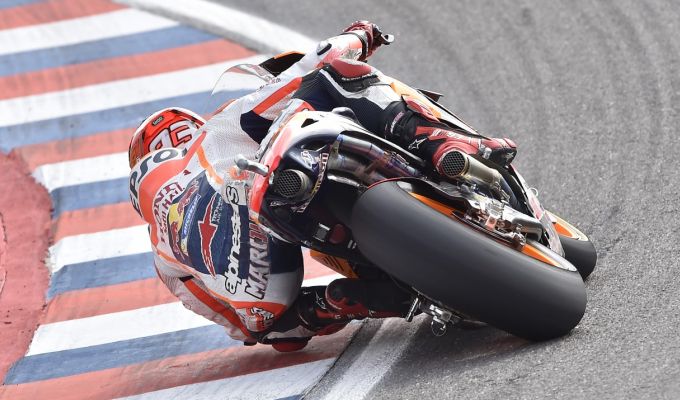 Marc Marquez found the kind of form he showed in back in 2014 on his way to claiming his first victory of 2016. 
A long list of new scenarios was made slightly shorter after dry morning warm up. With the race also being run dry, it was shortened to twenty laps and split into two, with a mandatory pit stop to be had at the end of either the ninth, tenth or eleventh lap. 
Fortunately for Marquez there were no repeats of the 2013 Australian Grand Prix which saw a similar mandatory pit stop implemented over tyre issues. During that race however, Marquez and his Repsol Honda team miscalculated and he pitted a lap too late, resulting in a black flag.
Marquez had been quickest in every session over the weekend and completed his weekend after a dominating victory, which saw him cross the line 7.6 seconds ahead of Valentino Rossi. 
Both Marquez and Rossi pitted at the end of the tenth lap, with them split by just a tenth of a second. Marquez' now specialist bike switch saw him gain the better part of two seconds on the Italian. Marquez then managed to get his second bike back up to speed faster than Rossi.
After a rough pre-season testing Marquez was understandably to find himself on the top step of the podium after just two races into the 2016 season.
"I'm really happy with this win because we've worked very, very hard during the pre-season, in Qatar and here," said the two-time MotoGP World Champion.
"Honda is working very well and I feel the support; we're going in the same direction, and that's the most important thing. It's a special win, not only because it's the first one of the year but also because with the team, we managed the situation very well, and after what happened in Australia on a similar occasion [in 2013], it was important for us to do well.
"I knew that the first part of the race would be tough because it was still damp in some places, and with the first bike I hadn't felt as good as with the other one even during practice. I knew that the second part of the race was the key. I pushed 100% in the first five laps after the bike change, I opened a gap and after that I just kept the distance."
As he jumped onto the top step of the podium, Marquez slipped fortunately not hurting himself, although the Spaniard was able to laugh it off.
"I will have to complain to Race Direction," he said laughing in the press conference. "There was no oil flag or nothing there!"
Laugh it off Marc, laugh it off! https://t.co/2yGL6IwWy0

— GPxtra (@GP_Xtra) April 3, 2016
Photos via Repsol Honda