Redding: It was really scary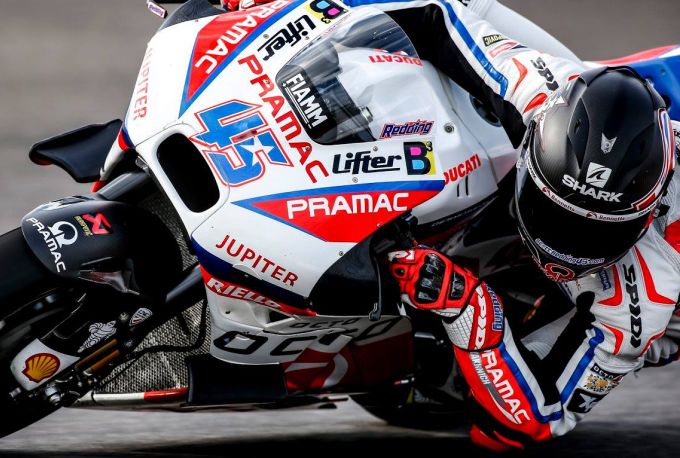 Scott Redding's Pramac Ducati was involved in a highly contentious moment during MotoGP free-practice four when the his rear tyre delaminated and exploded whilst he was travelling at over 150mph. 
fee practice four was red flagged after an issue with Redding's rear tyre. Replays showed that Redding's rear tyre had fallen apart due to a small puncture with the tread had come off the tyre. The tyre had flipped up and smashed the rear end Redding's Desmosedici and then whipped the Brit on the back causing nasty looking bruises and cuts. 
this it what hit me in the back in FP4, i didnt crash "luckly" still no information on what happend. Ready to race pic.twitter.com/ktGi3lYsgB

— ReddingPower (@Reddingpower) April 2, 2016
After the debris was cleared off the track, the session resumed only for a second red flag to be put out twenty minutes later with race direction and Michelin wanting to find the cause of the tyre issue before letting riders continue.
Michelin then advised teams wanting to qualify with the medium rear tyres to only use new tyres. After qualifying Michelin announced they had pulled both compounders of rear tyres for tomorrows race, providing teams with a new medium compound tyre.
Redding was clearly and understandably bothered by the tyre problem, admitting when he felt something hit him he was very scared.
"It was not a good day for me since the beginning. The FP3 haven't gone well. And when I began to glimpse the right path in FP4 it has come the problem," Redding explained after qualifying.
"It was really scary. I felt chattering with the rear tyre then something hit me. I saw pieces of the bike fly anywhere. I thought the tire had exploded and I was getting ready for a nasty crash. But a few moments later I felt that the tyre working again as there was still air in. I managed to run off the track without falling and I feel lucky to be standing here to tell it."
The incident had affected Redding's confidence heading into qualifying one, and in turn that saw the Brit only manage a best time of fourth place in Q1 meaning he will start tomorrows Argentine MotoGP from 14th place overall.
"I went in Q1 determined but it is clear that my confidence, especially in that turn, wasn't at the maximum. To be honest I feel good for tomorrow, he said.
"This morning we struggled a lot but in the afternoon I was close the Q2 lap times. Tomorrow will be a long race, if I can find consistency then everything will happen."
Photos via Pramac Ducati