Khairul Pawi wins mixed Argentine Moto3 race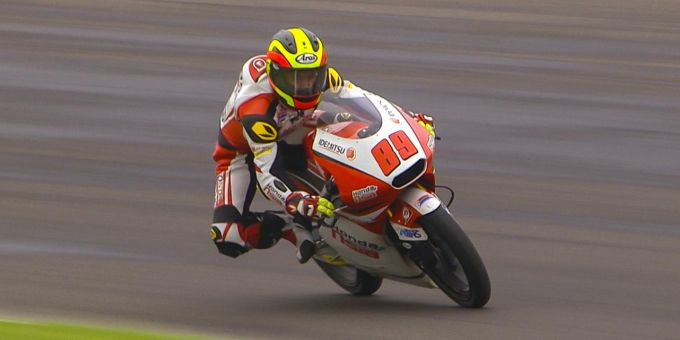 Khairul Idham Pawi became the first Malaysian rider to win a World Championship motorcycle race as he destroyed the filed to claim victory during the Argentine Moto3 race by 26-seconds. 
The race was run in mixed condition after morning rain had fallen in Argentina. The Malaysian had been quickest aboard his Team Asia Honda by over a second in morning warm up and must've been confident heading into the race.
Belgian Livio Loi was the only man to start the race on wet tyres, however it was Pawi who got the early lead and continued to stay ahead of Loi in the early stages and continued to pull away, never to be caught be anyone.
Behind Pawi, Spaniard Jorge Navarro battled with Pawi's compatriot Adam Norrodin. The Malaysian sat behind Navarro until the final lap of the race before making his move. Norrodin battled with Navarro only to high-side out in the final corner. He ultimately pushed his bike across the line to claim eleventh place.
Norrodin's late crash promoted pole-sitter Brad Binder onto the final spot of the rostrum after a race long battle with the likes of Andrea Locatelli, Joan Mir and Hiroki Ono. 
Aron Canet was in the battle for third position wth Binder, Locatelli, Mir and Ono before becoming the first and only faller of the race with three laps to go. 
World Championship leader heading into the race Nico Antonelli could only manage tenth position meaning South African Brad Binder now leads the championship going to Austin next week.
Photos via MotoGP.com