Antonelli wins opening Moto3 in Qatar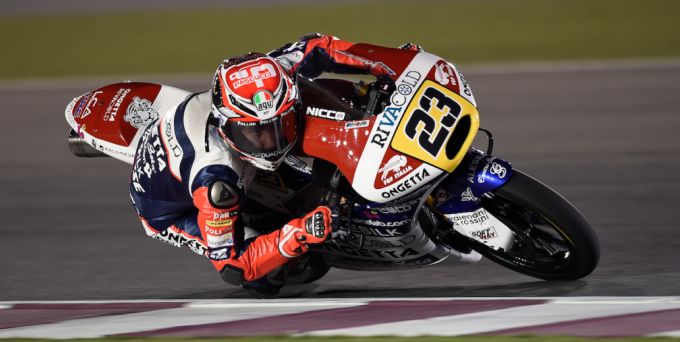 Nico Antonelli won a thrilling opening Moto3 race of 2016, pipping Brad Binder to the line by just 0.007 seconds. 
After a race long battle with pole sitter Romano Fenati, South African Brad Binder and compatriot's Pecco Bagnina and Nico Bulega, the Italian eventually prevailed, slip streaming and eventually out-dragging Binder who had led the final laps relatively unharmed. 
"In the last lap the slipstream can sometimes win, sometimes no," said Antonelli immedtiately after the race. "I knew if I stayed behind Brad I would be close. I'm very happy because it wasn't an easy weekend. I was sick so today I was better with myself, I can push very hard and stay concentrated."
Behind the front two, Pecco Bagnina claimed his second ever podium aboard the Mahindra after overcoming the challenge of VR46 rider Romano Fenati.
Behind them Enea Bastianini made a late cut through the field and claimed a strong fifth position finish just ahead of the rookie Nico Bulega on the second VR46 bike. Jorge Navarro faded to seventh whilst Friday pace setter Livio Loi could only manage eighth position. 
Philip Ottel and Jakub Kornfield rounded out the top ten. 
1. Niccolò Antonelli ITA Ongetta-Rivacold (Honda) 38m 12.161s
2. Brad Binder RSA Red Bull KTM Ajo (KTM) 38m 12.168s
3. Francesco Bagnaia ITA ASPAR Mahindra Team Moto3 (Mahindra) 38m 12.309s
4. Romano Fenati ITA SKY Racing Team VR46 (KTM) 38m 12.596s
5. Enea Bastianini ITA Gresini Racing Moto3 (Honda) 38m 12.767s
6. Nicolo Bulega ITA SKY Racing Team VR46 (KTM) 38m 12.786s
7. Jorge Navarro SPA Estrella Galicia 0,0 (Honda) 38m 12.835s
8. Livio Loi BEL RW Racing GP BV (Honda) 38m 13.871s
9. Philipp Oettl GER Schedl GP Racing (KTM) 38m 20.772s
10. Jakub Kornfeil CZE Drive M7 SIC Racing Team (Honda) 38m 23.108s
11. Jules Danilo FRA Ongetta-Rivacold (Honda) 38m 24.540s
12. Joan Mir SPA Leopard Racing (KTM) 38m 24.541s
13. Fabio Quartararo FRA Leopard Racing (KTM) 38m 24.562s
14. Bo Bendsneyder NED Red Bull KTM Ajo (KTM) 38m 24.887s
15. Aron Canet SPA Estrella Galicia 0,0 (Honda) 38m 24.945s
16. Maria Herrera SPA MH6 Laglisse (KTM) 38m 25.100s
17. Andrea Migno ITA SKY Racing Team VR46 (KTM) 38m 29.313s
18. Hiroki Ono JPN Honda Team Asia (Honda) 38m 29.528s
19. Gabriel Rodrigo ARG RBA Racing Team (KTM) 38m 29.612s
20. Adam Norrodin MAL Drive M7 SIC Racing Team (Honda) 38m 29.680s
21. Andrea Locatelli ITA Leopard Racing (KTM) 38m 29.727s
22. Khairul Idham Pawi MAL Honda Team Asia (Honda) 38m 29.769s
23. Darryn Binder RSA Platinum Bay Real Estate (Mahindra) 38m 44.100s
24. Alexis Masbou FRA Peugeot MC Saxoprint (Peugeot) 38m 44.110s
25. Juanfran Guevara SPA RBA Racing Team (KTM) 38m 44.281s
26. Fabio Di Giannantonio ITA Gresini Racing Moto3 (Honda) 38m 44.494s
27. John Mcphee GBR Peugeot MC Saxoprint (Peugeot) 38m 44.708s
28. Tatsuki Suzuki JPN CIP-Unicom Starker (Mahindra) 38m 44.973s
29. Stefano Valtulini ITA 3570 Team Italia (Mahindra) 38m 46.745s
30. Karel Hanika CZE Platinum Bay Real Estate (Mahindra) 39m 11.266s
31. Lorenzo Petrarca ITA 3570 Team Italia (Mahindra) 39m 11.270s
32. Fabio Spiranelli ITA CIP-Unicom Starker (Mahindra) 39m 47.109s
Read more at http://www.crash.net/motogp/results/228657/1/moto3-qatar-race-results.html#4KmrkQMcgFh7VsEb.99
Photos via Ongetta Rivacold Moto3