Agostini: Lorenzo has "a super offer" from Ducati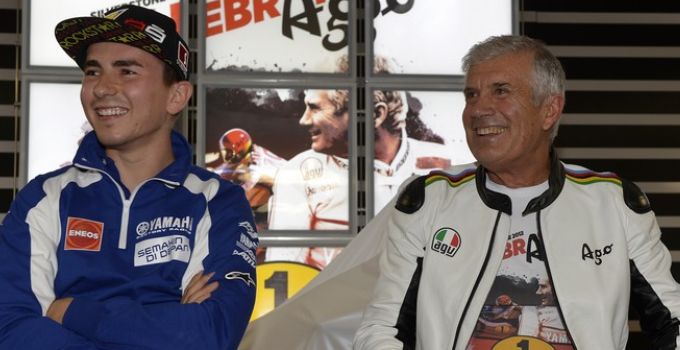 Fifteen-times World Champion Giacomo Agostini believes that reigning World Champion Jorge Lorenzo has "a super offer" on the table from Ducati.
News of Valentino Rossi's two-year contract extension with the Movistar Yamaha team broke during the opening Grand Prix of the season at the Losail International Circuit just over a week ago. Yamaha admitted that they had offered both Lorenzo and Rossi contract renewals at the same time, with Lorenzo's described by Yamaha as the best of his career.
In spite of this, Lorenzo has elected to take his time and evaluate his options before committing to Yamaha beyond the 2016 season. Despite very vocal interest from Ducati, Lorenzo had admitted that the only contract currently on the table was the extension from Yamaha.
Agostini however said that he knows "for a fact" that Audi – who own a controlling stake in Ducati – have offered the three-time MotoGP World Champion a big contract in a bid to lure him to Bologna.
"I know for a fact that Audi, the brand that controls Ducati, has made him [Lorenzo] a super offer," Agostini told Italian website quotidiano.net.
Despite the huge amounts of money being rumoured to be thrown at Lorenzo, the Italian said he doesn't know if that can offset the difference in equipment between the M1 and the Desmosedici in Lorenzo's mind.
Ducati haven't won a MotoGP race since Casey Stoner won his final race on a Ducati at Phillip Island in 2010, and Agostini does think that if Lorenzo believes he can take Ducati back to the top step of the podium, he should take the challenge.
"Does the money they offer make up for giving up the best equipment, which is what Yamaha has? If Jorge thinks he can make a difference in red, then he should accept the challenge. But I don't think he's fully convinced," he said.
Lorenzo has said he hopes to have an announcement regarding his future within the next "two to three weeks" which will be around the time of Lorenzo's home race of Jerez.