Marquez: It took me 60 hours to get to Argentina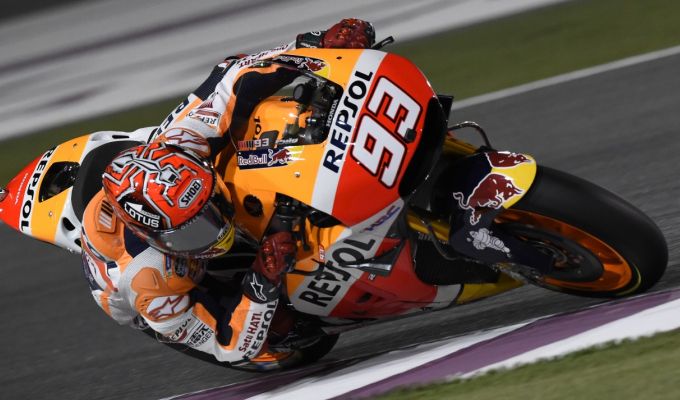 Marc Marquez' Argentine Grand Prix got off to the worst possible start, with the former World Champions journey to Argentina taking 60 hours!
The Spaniard endured a trip from hell from the off. Firstly Marquez' plane from Spain to London was cancelled on Monday meaning he had to catch a new flight on Tuesday. After eventually finding his way to South America, his plane taking him to the Termas de Rio Hondo suffered an engine issue with the plane having to land with only one issue. 
"Overall, the journey took 60 hours. I arrived in Argentina on Wednesday at 3am," explained the 23-year-old in Argentina.
"But I've done it and I'm now looking forward to getting bike on my bike and finding a good feeling and the pace of Qatar."
Before arriving in South America there were stories that Marquez was fearing for his safety after receiving death threats from Argentine, Valentino Rossi fans.
"I've only just arrived," said a smiling Marquez.
"I'm not afraid, but I was afraid on the plane when one of the engines failed!"
Marquez has an impressive record at the Termas de Rio Hondo Circuit. Marquez won the 2014 Grand Prix when the MotoGP paddock returned to Argentina, before crashing out of the race battling for the lead after a coming together with eventual race winner Valentino Rossi.
The Spaniard insists he isn't thinking about last years clash, and that he is more concerned with building from his Qatar podium and finding a setting that works in Argentina. 
"I like this track, we want to have a good weekend. We'll see on Friday what level we're at," he explained. 
"I was very happy with the third place in Qatar. A win is of course the goal, but after a difficult pre-season, with the electronics and the bike still not one hundred percent together, there are still things we need to improve.
"Nevertheless, I finished third and was just two seconds behind the leader. I was happy with the feeling with the bike. The important thing is that we now know what areas we need to improve."
Last year Marquez looked comfortable at the front of the race running with the harder rear tyre, only for Rossi to make a late surge and catch and pass the Spaniard with just two laps to go. 
This year with the new Michelin tyres already a hot topic, the choice of which rubber riders chose to run will be a highly analysed and important topic throughout 2016.
"Last year all the riders usually picked the same tyres in the race. In Qatar we already saw that there are lots of different options. Valentino and I went for the hard hard combination. Jorge had the hard front tyre and the soft rear tire, Dovi with soft soft," said Marquez.
"It's interesting this year, it'll be very important to select the right tyre for the race because they can be the key to victory. We will take great care with the tyre selection."
Photos via Repsol Honda