Crutchlow doesn't regret LCR Honda move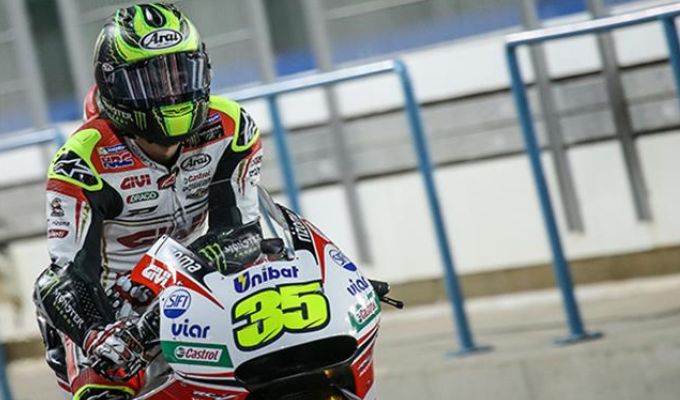 Briton Cal Crutchlow has cursed his bad luck, admitting he always seems to change teams at the worst possible time, comparing himself to Formula One's Fernando Alonso.
2015 saw Crutchlow on his third different bike in three years. He was on the satellite Tech3 Yamaha in 2013, before having a single season with the Factory Ducati team, before opting out of the second year of his contract, choosing to join the LCR Honda team instead.
It hasn't been plain sailing for Crutchlow since moving to the LCR Honda team. Crutchlow's last and thus far only podium with the Honda RC213V was in Argentina at round three in 2015, when he edged past his successor at the Ducati team Andrea Iannone to the final step on the podium.
Despite getting the better of Iannone, it is the Italian who had the last laugh in 2015, as he went onto claim three podiums, ending the season fifth fastest overall. The Ducati has gone from strength-to-strength since he left, whilst the Honda has suffered a sharp decline, with the Honda struggling to control the power output by the aggressive engine.
Alonso of course left Ferrari at the end of 2014, with the team struggling to compete with the Mercedes and Red Bull, in favour of joining Honda McLaren. Sebastian Vettel took Alonso's seat with Ferrari and ended the 2015 season in third position whilst Alonso endured a season of misery, amassing just 11 World Championship points.
Whilst the past-three years have been tough on Crutchlow, he is hoping that heading into 2016 and onwards, the stability provided of remaining with the LCR Honda team will help pay dividends in on-track results.
"Over the years I seem to grow with the manufacturer. But in the moment it's a difficult situation because I was like the Fernando Alonso of MotoGP, I moved at the wrong time to every manufacturer. When I left everything started to go good," the 30-year-old told MotoGP.com.
Despite seeing teams have success before and after he moved, Crutchlow insists he doesn't regret his decisions to change teams.
"I don't regret any decisions I made, I made them for the correct reasons at the time. Sometimes you look back and think 'ah maybe this weekend would have been easier if I was riding something else', but I have what I have and I have to do the best job I can with it.
"It's nice to be in LCR for the second year, they're working really closely with Honda and they're working hard to do the best job they can."
Photos via LCR Honda