Ducati offered Crutchlow "almost no money"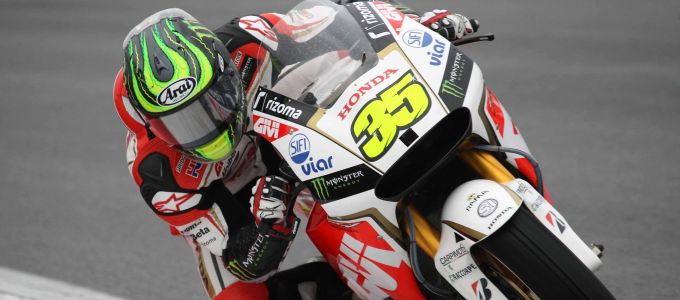 Cal Crutchlow's decision to sign with the LCR Honda team for 2016, with a view to extending his deal in 2017 didn't come a surprise to many people, but when rumours surfaced of a potential shock move back to Ducati, people were shocked to say the least. 
As we know, Crutchlow ultimately decided to stay put, rather than join the satellite Ducati team, and it has now transpired that Ducati offered Crutchlow "almost no money," according to Ducati sporting director Paolo Ciabatti. Crutchlow was on a shortlist of riders Pramac Ducati were targeting, with Crutchlow's compatriot Scott Redding eventually getting the seat alongside Danilo Petrucci for 2016. 
Crutchlow of course has history with Ducati, accepting a €2.5m contract back in 2013 to ride for the factory Ducati team in 2014 and 2015. Crutchlow exercised his option to leave his contract after one year, and joined the LCR Honda team. However the contract on the table for 2016 for the straight-talking Brit was supposedly very different this time around. 
In some quarters of the paddock, there were rumours that Crutchlow was only talking to Pramac in order to bump up his contract offer from Honda, however Ciabatti suggested it wouldn't have been a strong negotiation tactic.
"Cal would've been well advised not to put our offer on the table to Honda. If they'd seen it, they would have been very happy. We offered Cal almost no money," Ciabatti told speedweek.com. 
Despite the smaller contract on offer, Ciabatti insisted that Crutchlow and Ducati ended their relationship on amicable terms, and it wasn't a low balling offer out of retaliation to the manner in which he departed just under 12 months ago. 
"No, that is utter nonsense. This is a completely false. Of course Gigi Dall'Igna and I talked with Claudio Domenicali. Claudio has his point of view, but in the end he respects our decisions. I can tell you there is no personal animosity between Ducati and Cal," he said.
"We have informed Cal's management at the Sachsenring of our [contract] conditions. We said that we wanted a decision from them by the Indianapolis GP. Of course, Cal isn't a young rider. He's not the sort of junior riders who we prefer at Pramac. But tactically it might have made ​​sense in 2016."
He continued, "When Cal is in good shape mentally, he can achieve good results. At least on certain circuits. Phillip Island for example, Cal is always very fast there. The contract would have been a short-term thing, no long-term plan. That was not a backward step, we respect Cal as a rider.
"But on Sunday in Indy he has informed us that he wants to stay with Honda. We have replied. 'Fine'"
Photo via LCR Honda