Gresini in negoations to run Peugeot in 2016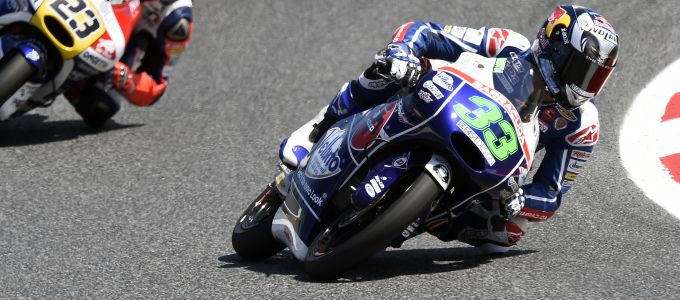 Fausto Gresini's Moto3 team could be the first team to run Peugeot motorcycles, with negotiations well underway. 
The decision for Peugeot to run in the 2016 Moto3 World Championship has come about due to the recent purchase of a controlling 51% on the French companies motorcycle department by the Indian brand Mahindra.
Mahindra's plan for next season, according to speedweek.com, is to replicate something similar to what KTM have been doing with the Husqvarna bikes for the past two seasons. The Peugeot bikes would essentially be re-branded, and re-stickered Mahindra's. Mahindra aim to continue with their current project that see's them run five teams, even if success had been limited this season, with just one podium, when Paco Bagnaia claimed third place in Le Mans.
Mahindra Racing Team Boss Mufaddal Choonia is targeting a top team for 2016, and approached Pablo Nieto and the bosses of the Team Sky VR46 side. However their approaches were rebuffed by the Italian team, as they wish to continue with KTM in 2016.
Valentino Rossi's compatriot Fausto Gresini however, is much more open to the idea of heading the Mahindra/Peugeot bike next season.
Since breaking off with Honda, Gresini and his team have had much more freedom through the paddock to chose what bikes they like. Since the introduction of Moto3, Gresini ran a FTR-Honda bike in 2012 and 2013, before jumping ship and decided to sign for KTM, with Honda struggling to match the pace of the Austrian brand. Halfway through his first season with KTM, Gresini penned a new deal with KTM for 2015, but a giant financial package from Honda lured the Italian back to Honda for 2015. Honda saw Gresini rider Enea Bastianini as the man to lead their title charge after losing World Champion Alex Marquez and team mate Alex Rins to Moto2.
With Gresini's MotoGP now the "factory" Aprilia team, 2016 could very well be the first season Gresini runs his team with no Honda represented in any of the classes (He will still have a Honda engine in his Moto2 bike, due to Dorna rules) 
This weekends Grand Prix in Indianapolis gives Gresini a chance to discuss a deal with Mahindra/Peugeot for 2016, as the paddock reconvene for the first race after the summer break.
Should Gresini agree to leave Honda for 2016, the future of current series second place man Enea Bastianini is up in the air. There had been some speculation he was being eyed up for a move up to Moto2, namely due to the height of the Italian. There is also a school of thought that suggests Honda wouldn't be too upset to see him move up to moto3, with Fabio Quartararo having a full season's experience under his belt.