Peugeot hope to join Moto3 from 2016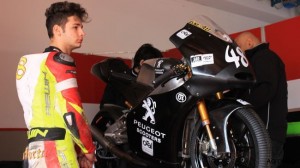 French scooter and car manufactures Peugeot are aiming to field a team to compete in the 2016 Moto3 World Championship.
The Peugeot Scooter – Oral team was unveiled this past weekend at Mugello, with the announcement that they will be racing in this seasons 10 race Italian CIV Moto3 championship.
The new Peugeot bike is actually a FTR chassis with an Oral engine – an Italian company who help Mahindra and their Moto3 engines heavily.
The project will be headed by Daniel Cecchini who will be responsible for managing the technical team, and improving the team through the project too.
Should this season be a success, there is a chance that we may see the Peugeot run as a wild card in Spanish CEV Albacete round, and possibly even wildcard in a World Championship Moto3 race.
2015 should see a larger effort with a hopeful title challenge, as well as multiple wild card appearances in CEV and the World Championship, before stepping up to a full time entry in the 2016 World Championship.
Despite Peugeot not having any significant input into the manufacturing of the bike, it is encouraging to see another, new racing brand expressing an interest to joining the Moto3 World Championship alongside Mahindra and Husqvarna.
UPDATE
Peugeot's start to life in Moto3 couldn't have started any better, with victory for Lorenzo Dalla Porta in Mugello despite starting the race from 26th position.