Tom Lüthi wins controversial Qatari Moto2 Grand Prix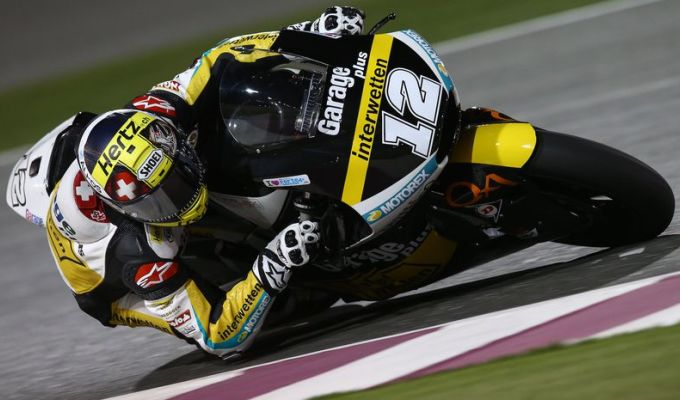 Tom Lüthi won the opening Moto2 Grand Prix of 2016 in controversial fashion, with six of the top eight on the grid jumping the start over suggestions of a light malfunction. 
The first Moto2 race of 2016 was filled with drama as all the top eight, bar Folger and Lüthi jumped the start, however the decision to not award fifth placed Franco Morbidelli a jump start penalty was met with mass confusion.
Pole sitter Jonas Folger escaped the jump start drama, however he inexplicably threw his Dynavolt Kalex down the road at turn four with a two second lead on the fourth lap. Leaving just Lüthi and Morbidelli to battle for the win. 
After a race long battle for the lead, on the final lap race direction announced they would be imposing a 20-second penalty to Morbidelli at the end of the race – 20 seconds is the largest penalty allowed to be given after the race, although a ride through took in the region of 35 seconds. 
Inspite of this, Lüthi still beat Morbidelli across the line to claim the first win of 2016.
"I didn't know," said Lüthi. "For me nothing changed, I won the race with and without his penalty. Maybe I didn't need to take the risk at the end so that's not that nice. But I stayed behind Franco, watched and attacked."
Behind the front two, Luis Salom produced a fantastic set up laps to pip Simone Corsi to the net second position, with the Italian rounding out the podium.
Hafizh Syahrin was fourth ahead of the recovering Domi Aegerter. Danny Kent impressed on his return to Moto2 finishing sixth ahead of Morbidelli. Ride through duo of Rins and Lowes were eighth and ninth respectively, with Forward Racing's Luca Marini rounding out the top ten.  
Photos via Tom Luthi