Stoner could stand in for Petrucci in Argentina and Austin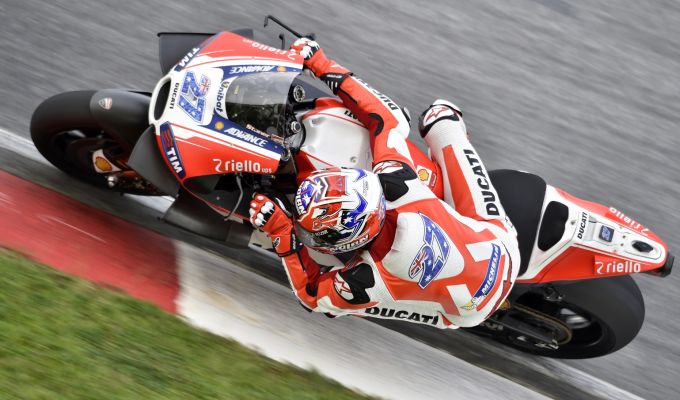 In the wake of Danilo Petrucci's latest injury setback, Ducati test rider Casey Stoner could make a sensational two-race return, standing in for the Italian at the Argentine and Austin Grand Prix. 
The Italian broke the third metacarpal in his right hand during testing at Phillip Island just four weeks ago, and despite his best efforts to get himself ready, the forces produced whilst riding a MotoGP machine caused the fragile bone to re-break and as a result he will now be forced out for a few weeks whilst he lets his hand mend. 
With their full-time rider now sidelined with the hand injury, the Octo Pramac Ducati team will now be seeking a replacement rider for the Italian. The two obvious options are the Ducati test riders, Michele Pirro and Casey Stoner.
Whilst Pirro remains the logical choice for the role – he stood in for Petrucci over the final pre-season test in Qatar last week – the Italian wild-carded regularly for the factory last season as he continues to help develop the advancements in Desmosedici's.
However, speculation from Marca and other members of the Spanish press revolves around that of Casey Stoner.
The Australian will be on track in Qatar on Monday and Tuesday as part of a private test for Ducati. The test was initially planned to take place ahead of this weekends Grand Prix although a logistical mistake by Ducati prevented that from happening. 
Stoner will test the GP15 on Monday – the same bike as what the Petrucci and his Octo Pramac Ducati team-mate Scott Redding run – with a view to getting on the GP16 on Tuesday. 
The Stoner links will have no doubt come about due to the fact that last season season he wanted to stand in for injured Repsol Honda Dani Pedrosa. Stoner was eager to stand in for Pedrosa in Austin and Argentina, two circuits he hasn't raced at before. Unfortunately for the Australian, HRC produced a multitude of excuses and elected to give the ride to official test rider Hiro Aoyama.
Despite never riding for the Pramac team directly, Stoner is very close with Paolo Campinoti head of the Pramac team. Stoner has a Pramac logo on his leathers, with the Pramac boss a key figure in Stoner's return to Ducati.
Whilst no decision has been made yet, it will be a Ducati factory decision and not in the hands of the Pramac team, but after Stoner's very public statement last year it would be a shock if the Australian didn't at least show an interest in standing in. 
Photos via Ducati Corse