Danilo Petrucci: I'll be in Qatar!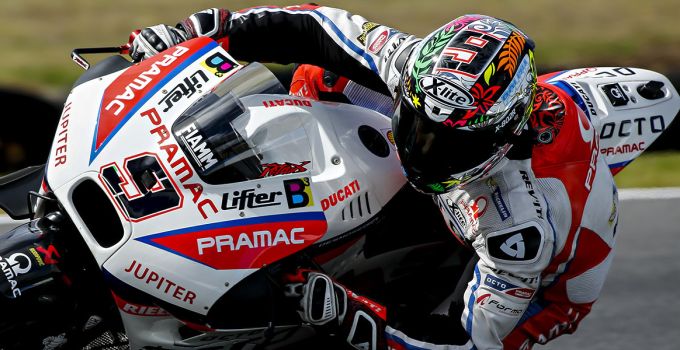 Pramac Ducati's Danilo Petrucci has insisted he will be in Qatar and attempting to ride at the season opening MotoGP despite still being stuck in Australia with his broken hand. 
The Italian broke his second, third and forth metacarpals during the final day of the second official pre-season test in Phillip Island after a fast crash through the hayshed corner. He was operated on the next morning in Melbourne and has been waiting until he gets permission to fly home since. 
Not the best place for crash.
Non il miglior posto per cadere. pic.twitter.com/zdPao32is3

— Danilo Petrucci (@Petrux9) February 20, 2016
Petrucci was in Phillip Island this weekend for the opening round of the World Superbike series, but with just nineteen days until the first practice session in Qatar, it's a race against time if he wants to be taking part under the lights at the Losail International Circuit.
"I'm doing much better," he told Italian website GPone whilst down in Phillip Island. "When I fell and hit the ground, I knew immediately that I was hurt. Doctors used two plates and a few screws [to fix it].
"If all goes to plan, I will fly back to Italy on Wednesday. The hand is still swollen and filled with blood at the moment. I'm not in any pain and can move my fingers, but in this state, I can't fly."
If Petrucci flies home this week, he will have just under two weeks before he would need to leave for the four day weekend in Qatar. The rehab will be intense if he is to be in the best condition possible for the opener. 
"As soon as I land in Italy, Ducati will take me to Modena to see Professor Catani. We'll see what he can do. I will also be supported by a physiotherapists in the Clinica Mobile," he said.
"I'll be there [in Qatar] and want to ride. I've talked to very experienced doctors in Australia who've advised riders who've had the same injury as me. I know that three weeks isn't that much, but I'll pull out all the stops."
Whilst he will be pulling out all the stops to be fit enough for the first race of the season, he won't be ready for the final pre-season test of the year, which takes place the week before the season opener. When the realised dawned upon him, he got some support from an unexpected support.
"Stoner cheered me up, he told me that everything changes in the race compared to the test [in Qatar]," explained Petrucci. "I have to thank Casey for many things. In the recent tests, he was really active in the box. I didn't expect him to bring so much. He asked me and the engineers a lot of questions.
"I have a good relationship with Casey because I already worked with him from a young age with my father when he was with KTM. After my fall, he came to the Medical Center and he arranged my doctor appointments in Melbourne."
Great to see @Petrux9 happy and smiling in Phillip Island, with his surgically repaired hand on show! pic.twitter.com/2ABvEiZOAx

— GPxtra (@GP_Xtra) February 27, 2016
Photos via Pramac Ducati