Rossi and Lorenzo argue over FP4 move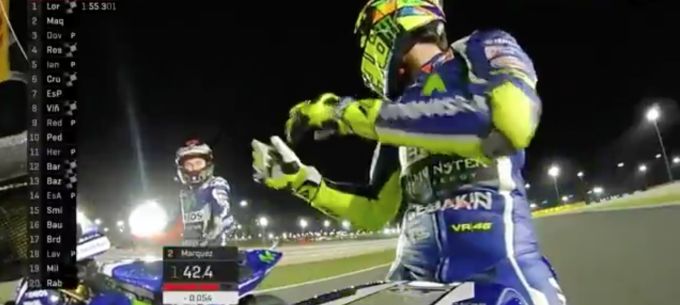 The tension inside the Movistar Yamaha garage is already sky high after Jorge Lorenzo and Valentino Rossi's verbal battle at the end of free-practice four.
Cameras picked up on the Italian remonstrating with the World Champion after the Spaniard came out of the pits, before the conversation carried on when the duo stopped for their respective practice starts at the end of the thirty-minute timed session. 
Rossi claimed that Lorenzo had pulled out of the pit lane without looking, before slowing down in the middle of the corner.
"He exited from the pits without looking up the track and when he arrived at the first corner, he tried to slow down on the line," explained the Doctor, speaking after qualifying.
"The problem is that when I asked him 'why?' I expected him to say 'sorry'. But he [looked] at me like 'what do you fucking want?'. Then when we tried our practice I went to ask him again, but anyway.."
Reports from Spain has suggested that the Italian had gone to Race Direction claiming that his team-mate should be given a penalty point, much like he had received last season in Misano for holding up Lorenzo. Rossi denied this, although did draw the make the link to his penalty point punishment in San Marino last year.
"The problem is that this situation happened exactly the same in Misano qualifying [last year], where I made the same mistake," explained Rossi.
"He was very angry with me and in the end they gave me one point. But they don't give to him one point, but I haven't asked them to. I didn't go to Race Direction, but I saw Mike Webb here, so I said, 'why one point to me and not to him?'. It's not a big problem, I was fucked last year, so it doesn't change anything."
Lorenzo's version of the events told a different story. The Spaniard claimed he was trying to stay as out of the way as possible, but couldn't be anywhere else unless he was in the gravel. 
"In my opinion he had no reason to complain," he said in the pole position press conference.
"Everyone knows when you exit the pits you cannot stop to let them past – because there were some riders entering the first corner, and you're already in the corner the only thing you can do is stay on the white line. This is what I did. I cannot be in the air or in the gravel. What can I do. If he is still angry with me I don't know the reason, you have to ask him."
Rossi & Lorenzo arguing on track. Neither of them happy with the other & now "chatting" in the practice start area https://t.co/OcNSdOYtqt

— GPxtra (@GP_Xtra) March 19, 2016
Photos via Movistar Yamaha and Dorna