Viñales targeting podiums in 2016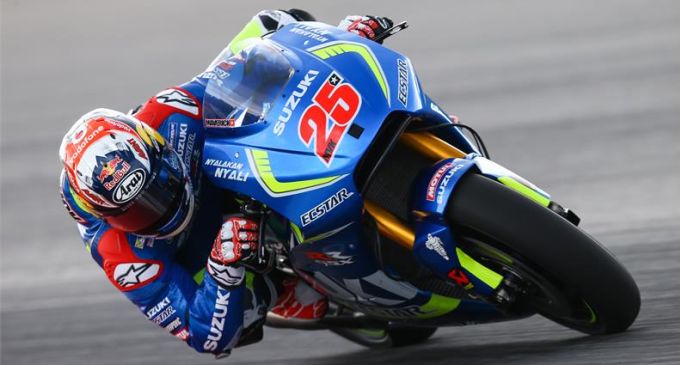 2015 MotoGP Rookie of the Season Maverick Viñales is looking to take the next step in 2016 as he is targeting podiums on his factory Suzuki.
The 21-year-old enjoyed a superb rookie season in aboard the return Japanese factory machine alongside compatriot Aleix Espargaro. In a bid to improve their competitiveness in 2016 Suzuki brought a brand new more powerful engine, as well as a new chassis to help with the change to Michelin tyres. The new gearbox features a new seamless gearbox, something which was substantially holding back the GSX-RR in 2016.
The new engine and gearbox pleased Viñales and his team-mate, although they preferred last seasons chassis rather than the new modified 2016 version.
"We have done a good job, but we still need to improve a lot," said the Spaniard. "The electronics are quite new and we need to test some more."
"But I'm really positive after this last day, i've really enjoyed being on the bike and the lap times were quite fast. The engine has improved a lot, so in this area I am quite satisfied. I think Suzuki have done a really good job. 
"Now I think that the priority is to find more grip, which is very important to make us constant and fast in the race."
Viñales ended 2015 just eight points behind his vastly superior team-mate on his way to twelfth position in the championship. A particular highlight would've undoubtedly been qualifying along Espargaro in the middle of the front row at home in Barcelona, before going on to convert that into a career best sixth place – something he'd later match in Philip Island.
Despite ending the test tenth fastest overall, nearly a second and a half behind Jorge Lorenzo, Viñales was less than four tenths slower than third placed Marc Marquez.
"My expectation is to be in the top six in every race," he said. "Today we were quite close, not necessarily to the top, but to third and fourth we were really, really close. We still have a lot of things to do, so if we work hard we can get in the top six. 
"Anyway, one day we want to be on the podium." 
Viñales and the rest of the MotoGP paddock will return to action when they go to Philip Island for the second official pre-season test of 2016 next week.
Photos via Suzuki-Racing