Rossi signs two-year contract extension with Yamaha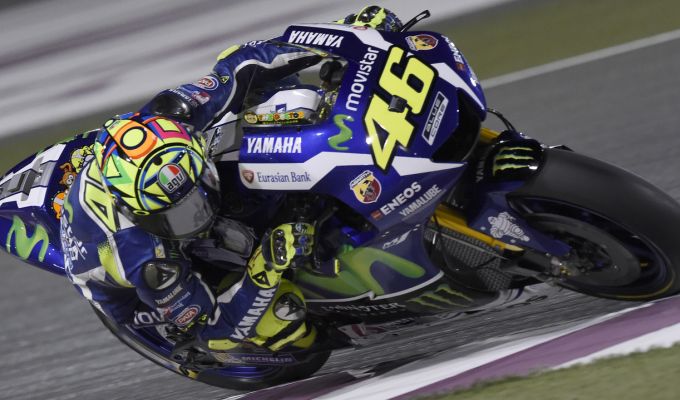 Nine-times World Champion Valentino Rossi has signed a two-year contract extension with the Movistar Yamaha team, taking his new deal to the end of the 2018 season.
In what is bound to be the first domino if this season's rider contract negotiations, on the eve of the opening Grand Prix of the 2016 season, the factory Yamaha team have confirmed that the 37-year-old has signed up for two more seasons.
Rossi joined Yamaha initially in 2004 where he won four of his seven MotoGP World Championship titles before leaving for Ducati at the end of the 2010 season. After two awful years aboard the Desmosedici, Rossi returned to Yamaha for the 2013 season, ending the last two seasons runner-up. 2015 saw Rossi return to his former self, claiming four victories and a further eleven podiums as he just missed out on a historic tenth World Championship.
The Italian had previously stated that he would wait to see how competitive he was before committing, but it appears he is convinced of his speed after this years pre-season testing and just three-free practice sessions.
"I am very happy to announce that Yamaha and I have extended our contract and will continue working together in MotoGP for the next two years," said the Doctor. "I am very satisfied with this decision, because it has always been my plan to compete in motorsports for as long as I can be competitive and find it enjoyable at the same time.
"Ever since I returned to Yamaha in 2013 I have felt like I am home again and this showed in the results. I get great enjoyment out of working with my crew and the rest of the Movistar Yamaha MotoGP team," he said.
"Their support for me has known no limit and I want to thank them sincerely for that. I'm feeling greatly motivated to keep riding my YZR-M1 for the best results possible, this year and the following two seasons.
"I also want to say a big 'Thank You' to my fans, who are always behind me every step of the way, making the races extra special. I will keep pushing at each and every Grand Prix so we can all keep enjoying MotoGP for more years to come."
After leaving Yamaha on somewhat indifferent terms at the end of the 2010 season, there was a school of thought Yamaha weren't overly keen on the idea of taking Rossi back. However, Yamaha Motor Racing Managing Director Lin Jarvis says that when Rossi chose to return to Yamaha, it was a 'decision for life'.
"I believe the confirmation of the extension with Valentino will be music to the ears of Yamaha fans and MotoGP fans around the world," said Jarvis.
"I cannot think of a better way to start a new season than for both parties to make this strong commitment. From Vale's side a statement of commitment to the sport he loves and towards the Yamaha brand; from Yamaha's side a confirmation of the recognition to the rider that has brought us 4 MotoGP world titles and who remains so passionate about his sport and is still highly competitive, as proven by his two 2nd positions in the last two seasons.
"When Vale returned home in 2013 it was 'a decision for life'. This new Agreement confirms that Vale will indeed finish his motorcycle racing career with Yamaha. Before that however all Yamaha fans can enjoy three full seasons of exciting performances from 'the Doctor' as he challenges to win his 10th World Title for the Movistar Yamaha MotoGP team."
Photos via Movistar Yamaha