Iannone enjoying life with Michelin tyres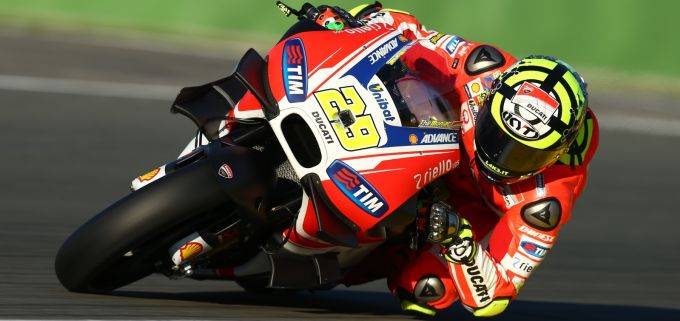 Factory Ducati rider Andrea Iannone has described the feeling from the new Michelin tyres very good as he ends his 2015 season prematurely in Valencia.
Iannone will undergo surgery on his damaged left shoulder to repair the ligaments and tendons damaged after multiple dislocations. He will therefore miss the private test in Jerez that Ducati have planned for the end of the month. 
The Italian ended the two days in Valencia ninth fastest with a 1.31.619 which was just over half a second slower than the best time managed by Marc Marquez. Despite being slower than anticipated, Iannone's biggest complaint of the GP15 was a lack of drive from the rear of the bike, something which is conversely the biggest strength of the Michelin tyres.
Despite a small crash in turn five in the morning, Iannone said he is enjoying the new tyres and standard ECU.
"Not so bad, I think the feeling with the bike and with the tyres especially is really good and for sure I want to improve a little bit the bike and the tyres," said the 26-year-old.
"But I think with a day and work especially this improve. Today was the new electronics and I am happy about this, because I have a little less performance, but when you ride a little bit more you enjoy because the slide is a bit more with the control of the throttle.
"So the lap time is worse but for the rider is good. For sure the factory [electronics systems] have a little more feeling because I use for longer and I think the new software is a little bit more difficult because of the slide and the wheelie, but it's the same for everybody. It's more fun because the bike have more wheelie and more slide and when you ride this is really fun, but the lap time is worse and this is not so really good, but I think for sure the time improve."
Despite enjoying himself with the Magneti Marelli ECU fitted to the bike, it still wasn't anywhere near as good as what he has been riding with for the past year.
"It's not really good because for the first time today I uses it and with the other tests for sure I improved the setting and electronics. For the first time it's not so bad, but I think thats for everybody because I look at everybody on the track and it's bad."
Photo via Ducati Corse