Ducati end Jerez test in high spirits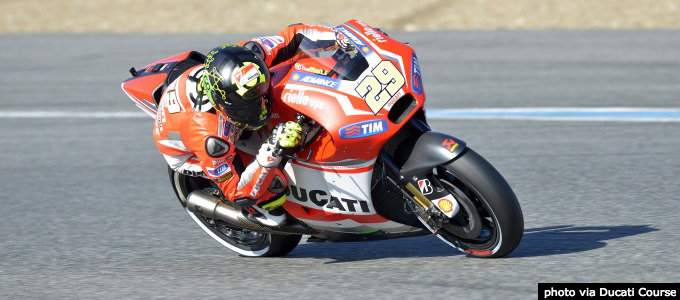 Ducati factory duo Andrea Dovizioso and Andrea Iannone left the final post season test of 2014 in high spirits after posting impressive lap times on their GP14.2's in Jerez.
The pair of Italians, were joined by test rider Michele Pirro, as well as some other Grand Prix and Superbike riders as they looked to get crucial laps in before the winter testing ban is enforced from the first of December.
With weather terrible on Thursday, the bulk of the work done by Ducati was on the Wednesday, when the weather was much more favourable. With a time of 1'38.9, Dovizioso ended the test top of the timesheets, just ahead of his new team-mate Iannone, who was second in 1'39.0. With the bad weather, their times from the first day were not beaten.
It was also a positive step for Dovizioso, who with that 1'38.9 posted his fastest lap of Jerez on a Ducati, three tenths faster than his time at the Andalusian track during qualifying in May. 
"We had to do set-up testing to get some exact information for next year's bike," explained Dovizioso after the test Thursday evening. "We did a good job yesterday, lapping all day and everything went well. I set a really good lap time, our record at Jerez.
"Even though I don't put a lot of importance on these times because many of our rivals were not here, it still gives you a lot of pleasure. Above all we were quick all day on used, hard and soft tyres, so this is even more confirmation that the bike has improved since mid-season and that we went better than what we did at Jerez in the race.
"Today I didn't do any more laps because of the weather conditions, but there wasn't much else to test."
Whilst Dovizioso finished top of the timing screens, both Ducati and Iannone will also be encouraged by the pace demonstrated by Iannone who is making the jump from satellite (albeit very heavily factory supported) to factory Ducati in 2015. 
"Yesterday was quite a positive day because we were able to try out various set-ups for the bike, eliminate some doubts and confirm what we had already tested at Valencia. In the end I lapped quicker than what I did in the GP race," said Iannone who just one tenth off his teammates best time.
"Even with the hard tyre I managed to do a good time and maintain a good pace, so I am quite happy about how this last test of the year went. We have accumulated a lot of good information for the new bike over the last two days. I'm also happy with the team, I like my new group of guys a lot and I'm pleased with the way we work in the box."
Ducati and Pirro were due to test new tyres for Michelin today (Friday) but consistent rain has limited track time, and limited the testing to wet running.