Andrea Iannone: I can learn from Stoner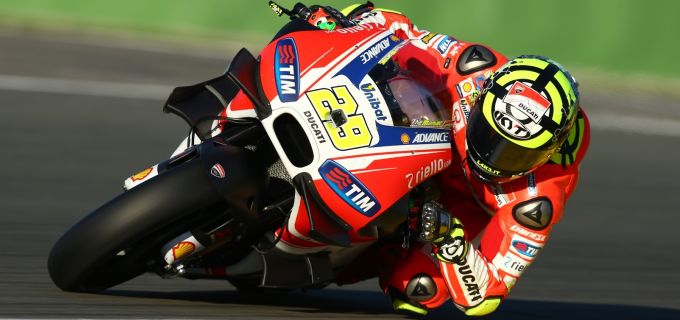 Ducati factory rider Andrea Iannone has said that he thinks that he can improve and learn from Casey Stoner, whilst improving his own riding style.
The Italian was arguably the break-out star of 2015, moving up from the junior Pramac team into the full factory outfit, Iannone lost the unwanted tag of a fast crasher, as he converted his raw pace into three podium finishes and a pole position at home in Mugello.
2016 of course sees the return of Casey Stoner to Ducati. The two-time MotoGP World Champion returns as a test driver and brand ambassador, whilst the prospect of a wildcard refuses to go away. Stoner was the last man to win a race and a World Championship on the Ducati. 
"I'm very glad that he's come back. It's good for us Ducati riders, because he is very fast and talented," the Italian explained whilst talking to GPone. "He also has a special riding style, which can be very interesting for us. I can learn from him, and I like that."
The Australian will make his second debut on the Ducati in two weeks time when he will take part in a private test on the 30th and 31st of January, two days before the official first IRTA test – where he may also complete some laps for Ducati. Stoner will use the first day of the test to work on the base setting of the GP15 before eventually moving onto the brand new GP16, which will make its debut in Sepang.
"It's true that the GP15 made us stronger, because it allowed us to close the gap on our opponents. Compared to the GP14.2 there was a big difference," he said.
"However, it's not so easy to identify which change made us more competitive. You must first get to know each bike and went as far as to understand its strengths, in order to be fast and constant. This worked well even with the GP14, since Gigi has been with us. It [GP14.2] was a bit cumbersome, but this problem was solved with the GP15. So we were more consistent."
Going forward, Iannone is hoping for another strong season, knowing that he has to start to season strongly, as he did last year.
"I'm expecting a very positive season for Ducati," said the 26-year-old. "Hopefully I start the season on the right foot, which is important. I need to continue to develop as I did in 2015.
"It will be a difficult year; because our opponents have worked hard and have some very strong riders."
Such was the level at which Iannone rode at last season, rumours have emerged this offseason that Yamaha could be eyeing up Iannone as the man to replace Valentino Rossi should he decide that 2016 be his final one in MotoGP. All of the factory riders, with the exception of Maverick Viñales, have contracts that expire at the end of 2016, meaning Iannone could be one of the factory riders on the move. But this is something that the Italian isn't worrying about just yet.
"I'm not thinking about these things, there's still a long time," he said. "It will certainly be hot in the transfer market, but I'm good at Ducati. I have a special relationship with Ducati and the people I work with."
Photos via Ducati Corse