Danny Kent aiming to follow Viñales into MotoGP in 2017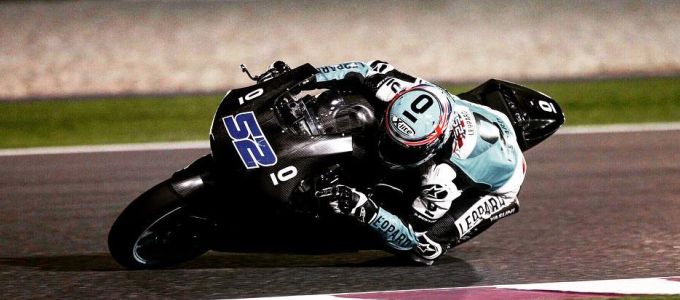 2015 Moto3 World Champion Danny Kent has admitted that he hopes to impress during his second stint in Moto2, before making a move into MotoGP for 2017.
The Brit ended a 38-year wait for a British World Champion last season on his way to claiming the Moto3 World Championship. Kent looked like the champion elect from almost the midway point in the season, raising interest in Kent as he looked to make 2016 plans.
Kent eventually turned down multiple MotoGP offers in favour of going down the more conventional route of Moto2 before heading into the premier class of motorcycle racing. Kent decided to stay with his current Kiefer Racing Leopard team for 2016 in Moto2 – the same team that guided Stefan Bradl to the second ever Moto2 title in 2011 also aboard a Kalex – before reevaluating in twelve months.
Despite moving to Moto2, Kent did consider the bigger picture, admitting he hopes to follow in the footsteps of Maverick Viñales and impress enough in one season to earn a MotoGP ride in 2017.
"I have a one year contract with the Leopard team," Kent told Spanish daily newspaper Marca. "I had options to go up to MotoGP this year with some teams, but my goal is to be strong in Moto2 and grow going into 2017.
"If I am strong and fight for the podium, then why not [go into MotoGP in 2017]," he said. "We all look at Maverick Viñales: he didn't win the title, but he did very well and went up to MotoGP. He's an example, and that would be a dream."
Whilst looking ahead to 2017, Kent knows the enormity of his task to impress in an ultra competitive Moto2 class in 2016. He ended the final pre-season test from Qatar in eleventh position, just eight tenths off the fastest time of the test set by Briton, Sam Lowes.
"Johann Zarco, who is the current champion and who dominated last year is the favourite," he said. "Alex Rins will be there too, of course. He was the best rookie and ended a lot of races on the podium last year. You can't forget Sam Lowes either, moving from the Speed ​​Up to Kalex, will certainly give him more confidence because he knows that he will now have a bike that can win races."
Kent already has one season of Moto2 experience under his belt, but it was tough year on the extremely difficult Mistral 610. Now aboard the Kalex Kent hopes to impress, but knows that coming into Moto2 as Moto3 World Champion doesn't automatically guarantee success.
"Maverick Viñales was very strong despite not winning the Moto3 title. Rins didn't win the Moto3 title either, but when he came up, we all saw he all did better than Alex Marquez, who had won the previous year in Moto3," explained the 22-year-old.