Rossi suggests he will sign new deal with Yamaha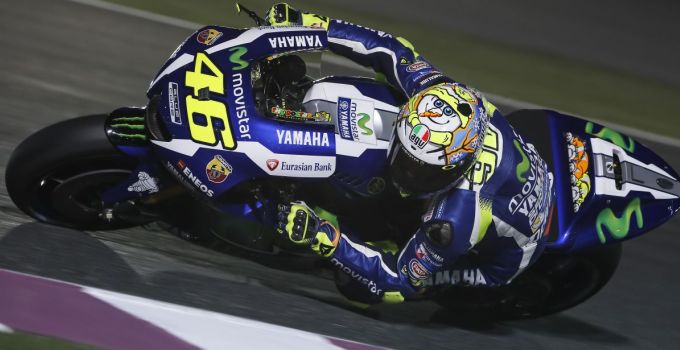 Nine-times World Champion Valentino Rossi has suggested he is ready to renew his contract with the Movistar Yamaha team into 2017 and beyond. 
Rossi has enjoyed a strong pre-season, showing he has adapted to the new Micehlin tyres and Magneti Marelli standard ECU well, as he ended the final pre-season test of 2016 from Qatar fifth fastest overall, but less than two tenths behind the second fastest man, Scott Redding. 
Along with his team-mate, Jorge Lorenzo and all the other factory riders, Rossi's current contract expires at the end of the 2016 season. 2016 will be Rossi's 21st season in World Championship motorcycle racing, but that doesn't appear to be slowing the Doctor down, nor making him lose his appetite for competing on the biggest stage of them all.
"I'll take part in five or six races but I'm fairly convinced I'll spend the next few years with Yamaha. Then that will be enough as I am getting white hair," the Italian told Italian newspaper Gazetta World.
Despite having his heart on continuing in MotoGP for the next two years, it hasn't stopped the Italian, who turned 37 back in February, from what life may look like after he eventually hangs up his leathers. 
"However at 39 I could take part in a few auto races like the 24 Hours of Le Mans or the Dakar Rally."
2015 saw a real renaissance in Valentino Rossi's career with the Italian coming so close to claiming an unprecedented tenth World Championship before late season drama involving Marc Marquez saw Jorge Lorenzo's relentless pace eventually see him claim the 2015 crown. 
Rossi firmly denied the prospect of mending the shattered relationship between himself and Marquez, after admitting he was hurt by Marquez' actions in the closing stages of the 2015 season, although he is upset with himself for, as he says allowing himself for being "tricked" by the Spaniard. 
"After what happened we can no longer have a relationship," said Rossi. "However we must be opponents on the track, for some years I hope, and we have to respect each other. That is important."
Rossi added some background to why he decided to take to the pre-race press conference in Sepang, revealing it had been boiling since Assen.
"More than anything I allowed myself to be tricked by Marquez," he said. He really betrayed me.
"He said he was a fan but those were all lies. I almost believed him and I was ready to have a rivalry with him, giving 100 percent on the track, but those were all lies on his end. At Assen I realised he was only my friend when he beats me."
Next weekend will be the first time that both Rossi and Marquez will be able to battle on track and share the same room, with the duo selected to take part in the pre-event press conference in Qatar.
Rossi left food for thought after answering a question about sharing pictures of Ayrton Senna and Alain Prost on social media, by admitting he admired the way in which took Prost out of the Japanese Grand Prix in 1990. 
"When Senna raced I didn't like him. I cheered for Nigel Mansell, and when he joined Ferrari, I cheered for Prost," said Rossi.
"But I really liked what Senna did at Suzuka in 1990. He was worked over the year before and then he did what he had to. He showed some balls."
Photos via Movistar Yamaha