Pedrosa: Ducati, Suzuki and Yamaha are faster than us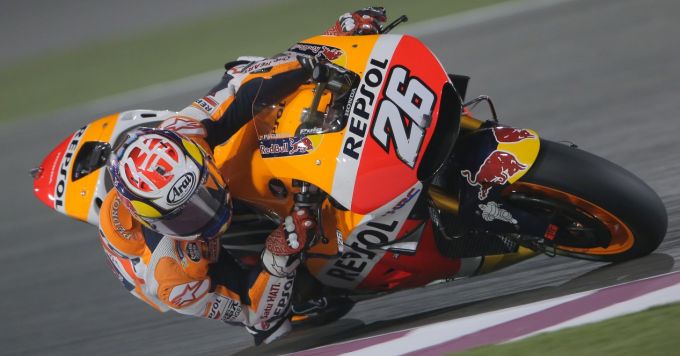 Dani Pedrosa has admitted Honda are behind the eight-ball going into next weekends opening MotoGP of the 2016 season, by saying that all of their rivals are currently faster than them. 
Last season the Honda RC213V was plagued by front end issues early in the season, and an engine that was too powerful to control. Going into the 2016 off-season, there was a lot of focus on bringing a softer engine to aid the riders, as well as working with the new standard ECU and Michelin tyres. 
Testing proved to be difficult for both Honda and Pedrosa in particular. Before the pre-season testing began, many had Pedrosa as a favourite for the 2016 title, however the Spaniard ended last weeks final pre-season test under the floodlights in Qatar tenth faster overall, just over a second off the time of fastest man, and reigning World Champion Jorge Lorenzo. 
When asked about his chances in 2016, Pedrosa, who is now about to start his eleventh season with the Repsol Honda team, said it will be difficult with all of his rivals showing good pre-season pace. 
"You can never say no, but it's hard to say right now," the 30-year-old told Spanish daily Marca. "We saw that Ducati, Suzuki and Yamaha are faster than us. We don't know the gap to the others. All we know is our situation and that we're behind. We'll see how we evolve and how the others evolve.
"We need to see how the strengths of each rider and their bikes," he said. "Then we can assess whether we're able to or not. Right now, if we look at the times, then nope. But racing is where most motivated me."
2016 will be a big year for Pedrosa, with all of the factory riders out of contract at the end of the season, there has been speculation that Pedrosa could make way for Maverick Viñales in the Repsol Honda garage for 2017.
Despite his future being up in the air, and rumours that he may not get a new deal with his current team, Pedrosa insists that all he is worried about is preparing for the 2016 season. 
"Right now I'm focused on the races," said Pedrosa. "Getting the best performance for myself and for the team is the most important thing. Then, after that we will see later if the contract can be renewed or how things will go.
"At the moment we must try to find a solution to be competitive in the race. This is what we have to look at before anything else."
Photos via Repsol Honda