Pedrosa suffers small crash on first day in Jerez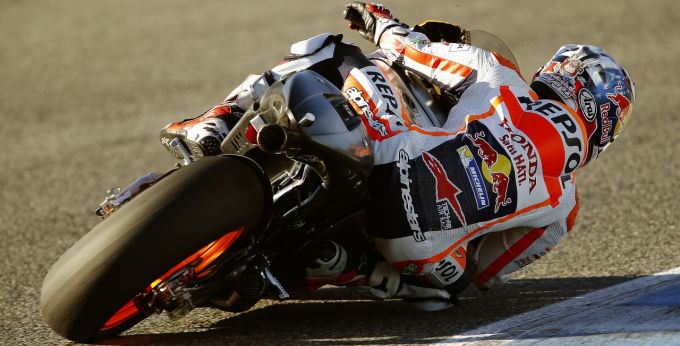 Dani Pedrosa used the first day of the private MotoGP test at Jerez to focus on work with the new Michelin tyres. 
On a bright and dry day in Southern Spain, the Spaniard got to work on a circuit he hasn't been to since early 2014, with him being forced to miss the 2015 race as he was recovering from arm pump surgery. Pedrosa was working alongside his team-mate Marc Marquez, testing the new 2016 Honda engine, as well as working with the new 2016 Michelin tyres and electronics package. 
Despite a small crash on the final corner, which he walked away from unscathed, Pedrosa managed to complete 56 laps and had a fastest lap time of a 1.40.12, which was just under two tenths off the fastest time of the day set by Marquez.
"It's been a good first day, despite the crash at the end where I was a little strong on the braking and lost the front in the last corner," said Pedrosa.
"I was a little slower today as I've not ridden here since the 2014 race, so I took my time to adjust to the Michelin tyres and this bike at this track. I was comparing the different engines but also working on settings as I had no data from the race this year.
"We tried to do the best job possible today, for sure it was more of a setup day, tomorrow we will work on the engines, tyres and electronics in more detail."
Pedrosa and his Repsol Honda team have two more days in Jerez before the winter testing ban comes into play on the first of December.
Photos via Repsol Honda