Pedrosa: The tyres will be the issue, not the electronics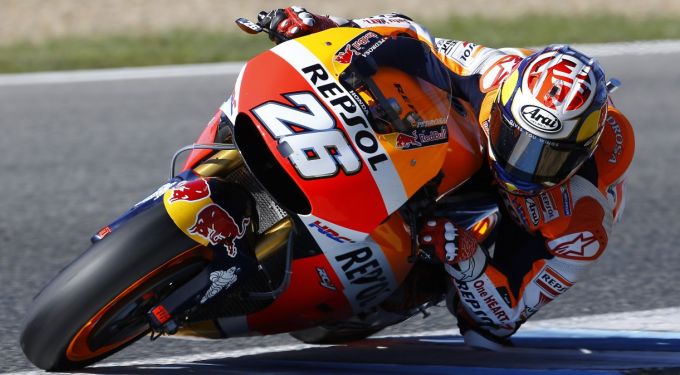 MotoGP World Championship contender Dani Pedrosa has said that he beleives that the new Michelin tyres will be the biggest factor in 2016, not the new standard electronics. 
2016 marks a new dawn for MotoGP, with Bridgestone leaving MotoGP after seven years as the sole tyre supplier, handing over the rights to Michelin. Along with the new tyres, all teams will be forced to used the same electronics as a method to reduce costs and bring the racing closer together. 
Pedrosa and the rest of the MotoGP riders got their first taste of the new Michelin tyres during the post-season test in Valencia, before some Honda and Ducati riders went down to Jerez before the winter testing ban was enforced. The new tyres caused over thirty front-end crashes with many riders upset with the lack of warning being given by the tyres before throwing them down the road. 
Pedrosa, who is entering his eleventh season in MotoGP, beleives that the tyres are the bigger factor going into the new year.
"The key issue will be the tyres, rather than electronics," the Spaniard told Marca, whilst doing a promotional event at the Circuit Castellolí in Barcelona for the new Honda Civic type-R. 
As well as issues with the new tyres, Honda have been working hard on making their engine more manageable. Over the past couple of seasons the Honda engine has been overly aggressive, something HRC Vice-President Shuhei Nakamoto even admitted needs fixing. 
Honda were working towards Sepang in the two post season tests, something Pedrosa is keen to see where they stand.
"After the last test we did some analysing and made some modifications," he said.
"So we're now hoping that we will have some improvements to show in the first test. But for now it's just waiting to try and test the changes. We obviously have many things to test at the same time, apart from the engine.
"We're currently in a place where it is difficult to say exactly where we are. After the Jerez test we made ​​adjustments, so we must now progress."
As for the 2016 season itself, the 30-year-old was reluctant to make too many predictions, but did say to be surprised by nothing this season; especially early on.
"The beginning will be an unknown, the outcome may surprise you," he said.
"Maybe things are not as you'd expect."
Photos via Repsol Honda