Marquez: We have work to do on cornering and corner exits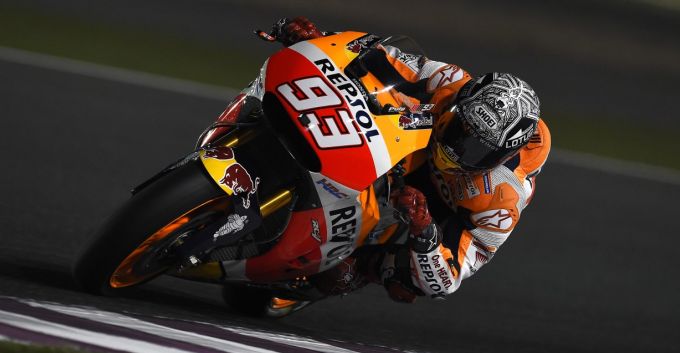 Marc Marquez struggled on the opening evening of the final MotoGP pre-season test of 2016, on his way to ending the first day 10th fastest overall.
After an indifferent first test in Malaysia, Marquez and Honda appeared to find something in Phillip Island as they looked to close the gap on Jorge Lorenzo and Yamaha, however, the same problems reared their ugly head during the first day in Qatar. 
The two-time MotoGP World Champion managed 45 laps on the first day, managing a best time of 1:56.523, which was 1.071 seconds slower than Lorenzo's best time of the day. 
Marquez struggled to find a set-up, particularly struggling mid-corner and on corner exit with his RC213V. The overly powerful engine is something that Honda have been dealing with since last season, and despite having a softer power delivery with the 2016 engine, it is still a huge problem for not only Marquez, but Honda in general. 
Along with the engine issues, Marquez worked with a range of different chassis as he bids to find the best one to work with the new 2016 engine.
"We knew before coming to Qatar that this circuit is one of the toughest on the calendar for us, and this year we are finding things a bit tough on the kind of corners that you encounter here," said Marquez.
"We are far from where we'd like to be, but the positive thing is that this is still only testing.
"Even though in Australia things went very well, here we have the opportunity to try many different things. In the remaining days, we will try some more things out to understand which direction we need to go to improve.
"We have been working a little on everything and where I feel best is when braking and entering the corners. We have work to do on cornering and on corner exits, because that is where we are losing a lot of time and at a circuit like this it makes it very hard on the straights."
Photos via Repsol Honda