Marquez crashes twice in final day of testing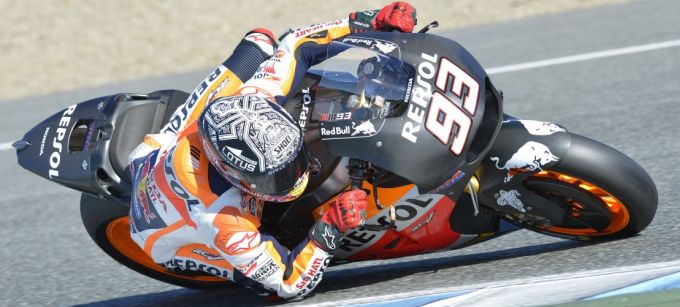 Marc Marquez' final day of action in 2015 had an unerring resemblance to his entire 2015, as he suffered two testing crashes.
The final three day test saw Marquez and his Repsol Honda team-mate continued to work with the 2016 RC213V. Marquez and Pedrosa used the final day of testing to compare their 2016 Magneti Marelli software, with their 2015 machines.
Despite getting through 67 laps, the day wasn't all plain sailing for Marquez who suffered two crashes. The first of his crashes was a fast highside through turn three, he walked away but did briefly receive some treatment. The second of his crashes was a front end one through turn one, a crash which has already become a familiar sight since the Michelin tyres have been re-introduced to MotoGP. Fortunately Marquez walked away from both with no serious injury.
Despite the two crashes, Marquez managed a best lap time of a 1'39.17, which was nearly half a second faster than his time from yesterday, but still two tenths behind the fastest time of the day set by Pramac Ducati's Scott Redding.
"Today I had two crashes; One big high side in turn three, I entered the corner on the gas with consistent power but suddenly the rear wheel became very aggressive and it launched me, luckily I was ok. The second one happened whilst I was doing an engine comparison as you must be on the limit to get the best feedback and the brake point with the Michelin tyres can sometimes be unpredictable," explained the the former World Champion.
"Anyway, we had a good three days and got a lot of information which we will now give to HRC, my feeling is that we have a little more potential with the new engine compared to the old one, but we're still not at the level I'd like.
"I know Honda will work hard over the Winter to improve everything for Sepang. I'd like to thank all the team for their hard work during the test and this year, now it's time for some time off."
The winter testing ban that is enforced through December and January means that Marquez and Pedrosa will be out of action now until the official IRTA test in Malaysia at the beginning of February.
Photos via Repsol Honda