Marquez works on 2016 Honda in Jerez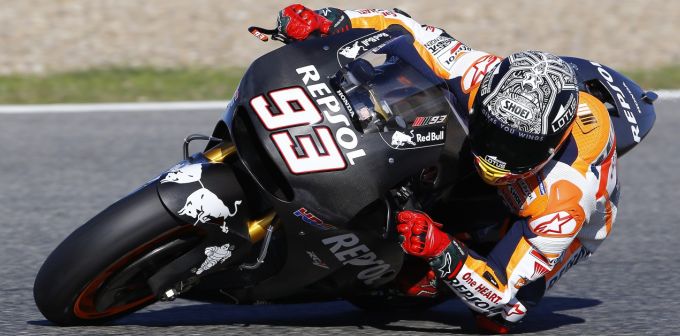 Marc Marquez and Honda began their three-day test in Jerez today, with the former World Champion focusing on his new 2016 Honda engine.
The 22-year-old was in action during a dry but chilly Jerez where his Repsol Honda team had more new parts for the former World Champion to test. As well as a new engine, Marquez was tasked with working on adjusting his Honda RC213V to the new Michelin tyres and Magneti Marelli electronics package, which will be mandatory for every bike in 2016.
The Spaniard managed to get through 65 laps during the first day of testing in Andalusia, with a best lap time of a 1.39.92 which was the fastest lap of the days testing. The pole position lap of Jorge Lorenzo during qualifying for the 2015 MotoGP race in Jerez was two seconds quicker than the lap time managed by Marquez today, showing just how much work the teams still have to do.
"Every time we go on track it's interesting because we try many things, starting with the software as our reference and with the Michelin tyres which is a big task to understand where the limit is," said Marquez.
"We did a few laps to understand a few things and we tried the new engine too which felt similar to Valencia but we must complete more laps to get the electronics working better, as it's hard to understand the true character until we have that fixed.
"The electronics are still not consistent we have made progress, but it's clear they are certainly a step behind the Honda software we are used to, but we know it won't be the same so we must find a way to work with it, especially concerning the engine brake and traction control."
Marquez and Honda will continue to test tomorrow and Friday, before the winter testing ban comes in from the 1st December.
Photos via Repsol Honda