Marc Marquez ends first day of testing fastest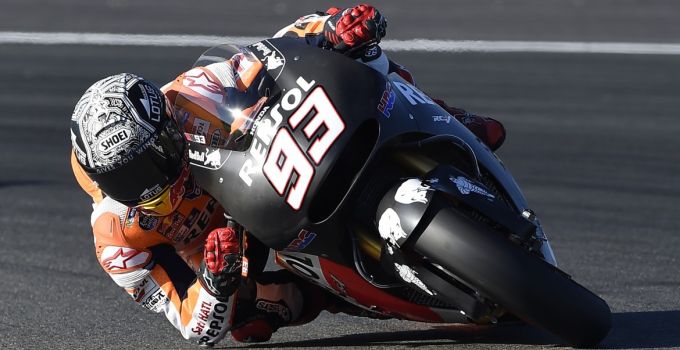 Marc Marquez has started his hunt to reclaim the MotoGP in perfect fashion, ending the first day of 2016 testing the fastest man in Valencia.
The 21-year-old got through 47 laps on the first day of testing for 2016, working with the brand new 2016 Michelin tyres and the Magneti Marelli ECU. Marquez posted his fastest lap of the day, a 1.31.551 on his tenth lap of the day, on a bike fitted with the new tyres but the existing HRC software. As a point of reference Marquez fastest time of the weekend was a 1.30.499 set in qualifying. 
It wasn't all plain sailing for Marquez, who suffered the first crash of 2016 with a crash just before 10am local time on his third lap of the day. Marquez was going through the fast left hander at turn three and lost the front end of his Honda RC213V. He was one of ten crashes during the first day as all riders attempted to get to grips with the new Michelin tyres.
The two-time MotoGP World Champion said that the tyres are more responsive to different types of service, despite his previous experience on the tyres already.
"We went out on track and on the opening laps I lost the front. I realised that the Michelin tyres may have worked well for us in testing at Aragon, but they react differently on every type of asphalt," said the Spaniard.
"From that moment we started again, doing a run with the same bike we used during the weekend. Then we changed to the new software and we saw that there is definitely some work ahead for us. It's only the first day and we have to adjust many things.
"At the end of the day we tried the new engine together with the Magneti Marelli software, but in order to draw any conclusions we first have to finish setting up the electronics and when we have a good base, then we will be able to evaluate the engine properly."
Looks like the front unloaded on the bumps as he went through turn 3 https://t.co/HMUpzwnJvh

— GPxtra (@GP_Xtra) November 10, 2015
Testing will resume tomorrow at 10am local time (9am GMT).
Photos via HRC