Lorenzo: Rossi and I don't have to be friends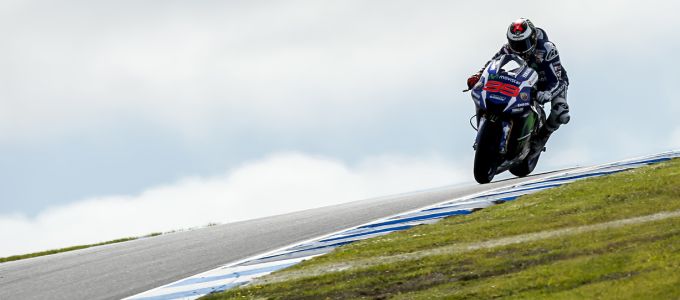 Reigning MotoGP World Champion Jorge Lorenzo has continued to stoke the fire with his team mate by insisting that he and Valentino Rossi do not have to be friends to be effective. 
Lorenzo has been clashing with the Italian ever since joining the nine-times World Champion in the Yamaha garage upon joining MotoGP back in 2008. The relationship has been fractured throughout the eight years the Mallorcan has been in the premier class, but tensions rode to an all-time high last season with the duo battling out for the 2015 MotoGP World Championship.
On the podium after the infamous Malaysian Grand Prix which involved the incident that subsequently forced Rossi to start from the back of the grid for the season deciding race in Valencia last season, Lorenzo was booed by fans, prompting his to give a 'thumbs down' gesture when Rossi's name was read out over the tannoy system during the podium ceremonies. Lorenzo has since apologised for that action, but it appears tensions between the pair are still extremely sensitive. 
"I don't need to be friends with Valentino to ensure that everything runs smoothly," the World Champion explained to the media during a promotional event in Barcelona this past week. 
Despite a close to perfect first test in Malaysia at the beginning of the month, the recent test in Phillip Island proved a little more difficult. Between the two tests it's left a less than clear picture in his mind of where he and the team are moving forward. 
"It went well for us at Sepang, but in Phillip Island was more complicated," he said. "We started the first test with the intention of winning the championship again. After winning three World Championships, the only goal can be winning a fourth title.
"The Yamaha has adapted very well to the Michelin tyres, but it is too early to draw conclusions. 
"It'll be a hard-fought championship. We all have the same electronic control unit, meaning the difference will be in the engine and in the chassis."
Just yesterday Paolo Ciabatti admitted that he would be interested in trying to recruit the World Champion to join Ducati in spite of his recent comments that he would like to stay with, and retire with Yamaha. Lorenzo's comments about wanting to get his future sorted before the season opener leaves him with just under three weeks to sort his future out before the lights go out in Qatar.
Photos via Movistar Yamaha