Viñales: Marquez is the best rider to follow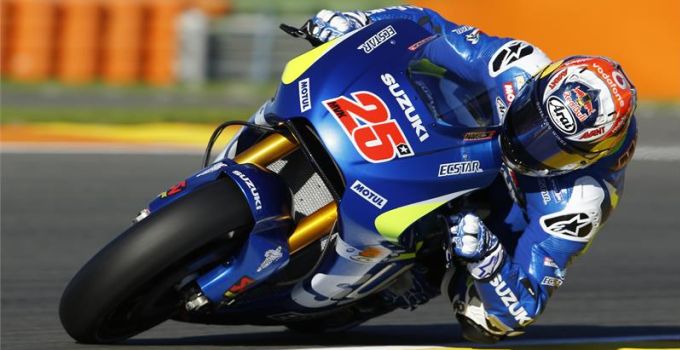 MotoGP's newest star, Maverick Viñales, has said that he learned more from following Marc Marquez than any other rider during his immensely impressive rookie campaign. 
The 2013 Moto3 World Champion came to MotoGP for the 2015 season after a solitary but superb season in the intermediate class as part of the Pons Kalex team. The Spaniard ended his debut season in MotoGP in 12th position, just eight points behind his vastly experienced and highly coveted team-mate Aleix Espargaro, as the duo oversaw Suzuki's full time return to MotoGP. 
Viñales' undoubted highlight of his rookie season will've been his second place start in his home race in Barcelona. He was only slower to his team-mate as Suzuki locked out the front two spots, as he went on to convert his best start into a career best finish of sixth place. 
The 2015 season was a year of learning for Viñales, with the 20 year-old using every opportunity out on track as a chance to watch and pick up hints from other more experienced riders, in a bid to improve his own pace. Viñales said that compatriot Marc Marquez was the best rider to learn from, although he was also full of praise for both his team-mate and Suzuki ambassador and 1993 500cc World Cahmpion Kevin Schwantz.
"For me, the best rider to follow is Marc," the Spaniard.
"We have a very similar riding style and whenever he is ahead of me things work out well. Of anyone in the history of the World Championship, I would have liked to follow number 34, the legendary Kevin Schwantz. Also my teammate, Aleix. He has the same bike as me, so it has the same power. In addition, we take similar lines."
Despite saying that Marquez is the best rider for him to follow and pick up lines and ways to improve his own pace, the Spaniard said that Jorge Lorenzo is the fastest rider with whom he has ridden with during his debut season in MotoGP. 
"Possibly Jorge Lorenzo. He is very consistent and demonstrated that every weekend in 2015, from the first free practice session through to Sunday: He is able to put in the same pace for the entire race, and that is not easy."
"I think that's definitely Jorge [the fastest in corners]. In my opinion, he is not the best braker on the grid –he doesn't brake especially late– but it is amazing how he handles the throttle and cornering."
Viñales picked up things throughout the 2015 season, although his biggest areas for improvement are largely things that only he can sort himself, this is in spite of a range of upgrades Suzuki are expected to bring for their second season back.
"Above all my starts and my opening laps. I think this is where I have the most room for improvement."
Photos via Suzuki-Racing.com