Honda targeting Maverick Viñales for 2017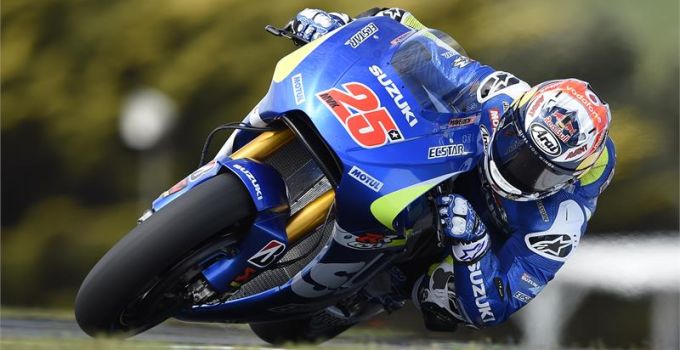 Honda are targeting 2015 MotoGP rookie of the year Maverick Viñales to partner Marc Marquez in a next-generation Spanish Repsol Honda Dream Team.
Viñales has wrapped up the title of MotoGP rookie of the year, to go along with his 125cc and Moto2 rookie of the year titles in a sensational first season with the returning Suzuki MotoGP team, excelling all expectations made of him. Viñales sits in twelfth overall in the 2015 MotoGP World Championship standings, just five points behind his vastly experienced and older team mate Aleix Espargaro. 
Last year when Viñales signed a deal to come into MotoGP with the Suzuki Factory, he signed a three-year deal that would see him in blue through until the end of the 2017 season. This puts him out of sync with the other major riders, with all Factory Yamaha, Honda and Ducati riders contracts expiring at the end of 2016. 
Despite being signed up already for the 2017 season with his current team, GPxtra has learned that HRC executives has spoke to Aki Ajo, Maverick Viñales' personal agent about working a deal to release him from his contract a year early. Suzuki are understandably reluctant to let their young starlet leave early, but Honda are hoping that their financial power can help them thrash a deal out to secure the Spaniard. 
HRC would be aided by title sponsor of their factory team, Repsol and smaller sponsor Red Bull. The energy drink company is a current sponsor of the 20-year-old, and the petroleum giant was a sponsor for Viñales during the inaugural season of the Moto3 season back in 2011 when he rode the Blusens Avintia FTR-Honda. 
Should HRC get their hands on Viñales, that would spell the end of Pedrosa's eleven year stint with the Honda factory. Pedrosa will be 31 by the end of next season, and with Marquez' success, Honda are looking for another young rider to compliment the Spaniard. 
Should they not get their man, Honda aren't short on options should they want to replace Pedrosa at the end of his current deal. Jack Miller, like Viñales, is on a three year deal, but directly to HRC, and not to a satellite team, meaning he is a viable option for the factory. As is Marc's younger brother Alex. Currently in the first year of a two-year deal with the Marc VDS team in Moto2, Alex was rewarded with a ride on Marc's RC213V in Valencia last year after winning the Moto3 World Championship for Honda. Should his second year go better than his rookie season, he could also be an option to replace the ageing Pedrosa.
Aki Ajo has previous of helping his one of his riders escape a "biding contract", when he helped another one of his personal riders Jack Miller last season. Miller had supposedly signed a deal to ride for the Marc VDS team in Moto2, but between Ajo and HRC, they managed to get around that obsticle to get Miller on his three year deal with the factory. If HRC work hard enough, there's no reason to suggest they can't repeat the trick with Viñales in 12 months time.
Photos via Suzuki-Racing.com