South Australia hoping to host MotoGP round from 2018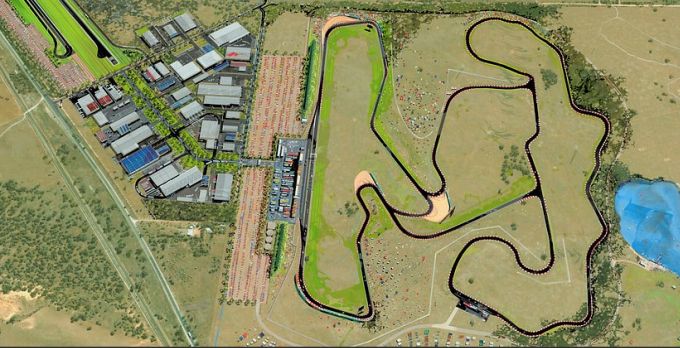 The new Tailem Bend Circuit in South Australia is hoping to find its way onto the MotoGP calendar in 2018. 
The new Australian circuit, which is about 100km south-east of state capital Adelaide is a 7.2km circuit funded by local businessman Sam Shahin.  
The circuit will be part of a wider complex called the SA Motorsport Park. In order to host MotoGP, the circuit will need to achieve a A level grading from the FIM. They also want the circuit to host Australian V8's, which would require FIA Category 2 status. 
The current Australian Grand Prix is of course held at Phillip Island, a fan and rider favourite for it's fast swooping corners and stunning scenery conducive to great racing. The Victorian circuit has a contract to host MotoGP racing until the end of 2016. This leaves two options for MotoGP in Australia. If Phillip Island get's it's contract renewed, the the SA Motorsport Park could host a second Australian MotoGP.
If Dorna decide that they only want to host one race in Australia per season – which is far more likely – it could lead to a deal similar to the one that the Circuit of Wales have signed in the UK, where they would outsource the first season of their contract.
"Sam has made no secret of the fact we have an appetite to host the highest level events, and a round of the MotoGP Championship fits the brief I'm working to," General Manger of Commercial Operations, Damien White told Speedcafe.com.
As now customary with any circuit hoping to find itself hosting MotoGP in the near future, Franco Uncini, the FIM's chief safety officer was in South Australia last week to inspect the plans and visit the site. 
"We were enthused, but not surprised, at Mr. Uncini's reaction when he visited. It's not until you physically see the layout that you truly understand its character. And like every great circuit, Tailem Bend has plenty of character," said White.
"We continue to work with FIM and FIA to attain final approvals. When completed we will be licensed to conduct every category except Formula 1."
Uncini will now complete a safety report and then go back with his findings and decide if the track is suitable for MotoGP racing.
Whilst Uncini is only down to the safety of the circuit, the Italian seemed impressed with his initial impressions of the facility and certainly refused to rule out the possibility of Australia hosting two MotoGP races in the coming years. 
"In general the circuit is very safe and very exciting," Uncini told the Adelaide Advertiser.
"I have worked with Peregrine Corporation for some time and it is fantastic to be here for the first time and see this fantastic layout. 
"There is no reason not to have two MotoGP events in Australia."
Photos via SA Motorsport Park and MotoGP