Four new countries targeting 2017 MotoGP races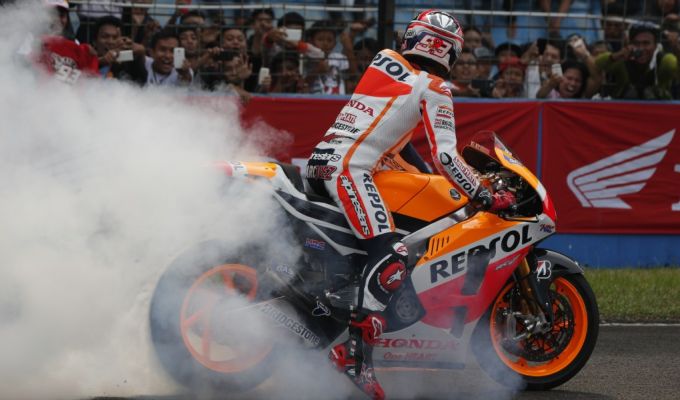 Four new countries are hoping to be awarded a MotoGP race in 2017, meaning we could have our biggest calendar shake up for many years. 
Last week we told you that Indonesia had been provisionally given a race for 2017, after successful meetings between Dorna CEO Carmelo Ezpeleta and Tinton Soeprapto, the CEO of the Sentul International Circuit. The provisional tag hangs over the agreement at the moment, as the Sentul circuit requires wholesale changes and modernising which will start in March, and be overseen by famed track designer Hermann Tilke.
Along with the Sentul International Circuit in Indonesia, the Buriram Chang Circuit in in Thailand is widely expected to get approved. Thailand hosted it's first World Superbike event this season and will definitely return in 2016. The event was a resounding success with sell out crowds, the World Superbikes have a contract until the end of 2017. 
Along with the two South-East Asian countries, both Finland and Kazakhstan are also bidding to host a MotoGP race in 2017. Work on the Kymi Ring in Finland began earlier in 2015 and back in April the head of the national governing body for motorsport in Finland, Kari O. Sohlberg, said that a MotoGP race is a far more viable option than a Formula One race. With the ever increasing influence of Aki Ajo in the MotoGP paddock, a race in Finland seems inevitable. 
Whilst Kazakhstan may sound like a surprising choice, MotoGP is fast becoming one of the most popular sports in the Asian country. Free-to-air TV and big sponsors entering the sport – such as Eurasisan Bank on the Movistar Yamaha team – means there is a growing influence in the sport. Whilst not an overly appealing market for teams, the money the Kazakhstan government are willing to pay is making it an appealing option for Dorna to consider.
Dorna have sent Alfonso Tomé to look at the circuit which is currently being built, as Kazakhstan are trying to exhibit their country, much like Qatar does with their night race. Tomé was also the man sent out by Dorna to look at Aragon and the Losail circuit in Qatar itself before getting them approved, could it be a sign of whats to come?
Along with the afore mentioned four, Brazil and Chile have previously shown an interest, and with Argentina's three-year first contract expiring after 2016, there is potential that one of those two countries could step in should they look to move away from Argentina in South America. 
As well as Argentina, Motorland Aragon, Mugello, Circuit de Catalunya, Sachsenring, Misano, Sepang International Circuit, Phillip Island and the Circuit de Ricardo Tormo in Valencia all have contracts expiring after 2016, meaning any number of the nine could face the cut. 
2016 will see MotoGP go back to Austria, and we could be welcoming four next circuits a year after in what is an exciting time for MotoGP as it continues to grow around the world.
Photo via Repsol Honda