Valentino Rossi: The race here will be difficult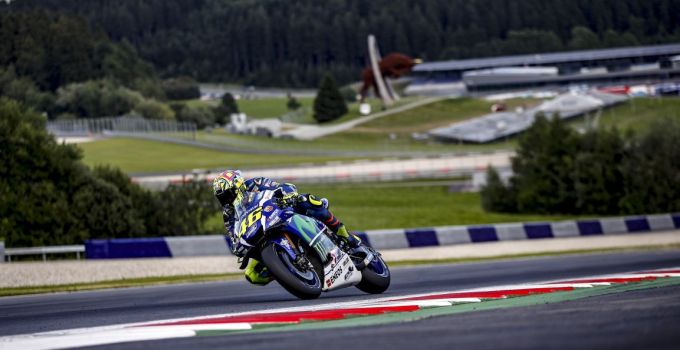 Nine-times World Champion Valentino Rossi has said that the next race at the Red Bull Ring will be tough for the Yamaha, after completing two days of testing at the Austrian circuit. 
The Italian ended the two day test fifth fastest overall, behind the two factory Ducati's, Casey Stoner and Hector Barbera, and just ahead of his team-mate. Rossi said that the nature of the Austrian circuit hurts the Yamaha M1 with its long straights and large portions of the track spent with the throttle wide open. 
"It's a very particular circuit because it is really, really fast and you spend a lot of time with the throttle fully open," said the Italian.
"Compared to the other circuits it has a lot less corners, at the end of the lap you have done only nine or ten, normally there are around fifteen.
"It's very fast and the place is good and the corners are OK. For us, personally, it's not the best circuit because usually we suffer a bit on top speed, and in fact we are struggling, but it's just the first day and we collected a lot of data and made some kilometres."
Despite the circuit not suiting the Yamaha, Rossi made considerable strides during the second day of testing, where the Doctor focused on using the track time available and gathering data ahead of next months Austrian Grand Prix.
 "It were two good days, especially today we improved the performance and the balance of the bike a lot, but also the track was better, with more rubber where we needed it. We were able to improve the lap times and our position and we're a little bit closer to the top guys," he said.
Despite Ducati dominating both of the testing days, Rossi is expecting the race here to be a lot closer, even if it will be tough for him to be right at the sharp end of the grid.
"I think racing here will be very difficult because it's a fast track, so for sure it's not the best circuit for us or for the YZR-M1. We have to work and give the maximum to get the maximum. Already today, we made a step and now we'll see," said Rossi.
"We'll get some rest and take a holiday and we will see what happens when we come back in August. It will be a very difficult race, especially with some of our factory rivals, they are faster than us. It will be very important to also understand the potential of the other competitors, because some are not here. It will be interesting to see if we are a little bit faster or slower than them, but we'll have to wait for the race weekend."
Photos via Movistar Yamaha