Ducati will allow Stoner to race in Qatar should he ask to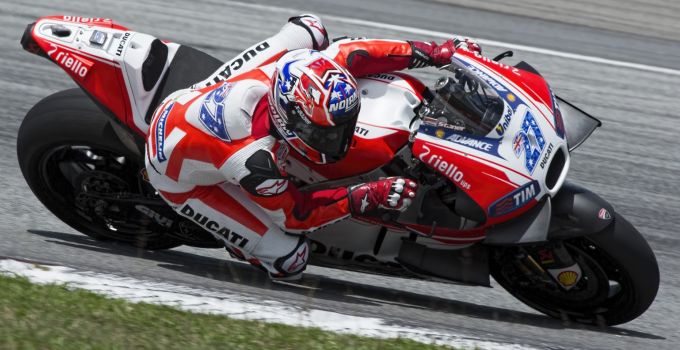 Ducati will not deny Casey Stoner the chance to race in the MotoGP season opener under the floodlights in Qatar, should the Australian ask to.
The former double MotoGP World Champion made his official return to Ducati during this past weeks testing in Malaysia, impressing immensely with lap times far faster than many were expecting when his circumstances were factored in. Stoner last rode a MotoGP bike competitively back in 2012, yet ended the first official pre-season test of 2016 in fifth place overall, and fastest of all the Ducati's present at the test.
Today Ducati announced that Stoner wouldn't join them for the second official MotoGP pre-season test, which will take place at Philip Island, Stoner's home circuit where he won for six consecutive years before his retirement and the scene of Ducati's last victory in MotoGP, with Stoner winning the 2010 race there for them. 
All of that means that Stoner will next get his first taste of the GP16 officially when he is next on the bike in Qatar, with the prospect of Ducati joining Aprilia during the private test at the beginning of March, shortly before the entire paddock gathers up in the desert for the final pre-season test for the lights go out for the first race of 2016 at the same venue. 
Despite constantly saying he doesn't want to make a return to racing, Valentino Rossi said he thinks Stoner wants to make a return, and should he wish to line up back on the grid, Ducati wouldn't refuse him the chance to do so. 
"Obviously, the answer would be positive," Ducati Corse General Manager Gigi Dall'Igna told GPone.com after the commencement of the first test when asked how he would reply to Stoner asking to race in the season opener. "But this is not why he is with us and I can not imagine it at the time.
"My focus is on the development of the bike. After the test in Qatar, we can think about more of these things," he said.
The idea that Stoner might come in and upset the apple cart by possibly taking points and beating full time factory riders Andrea Iannone and Andrea Dovizioso would require serious managing. But Dall'Igna insisted that both factory riders were full behind the decision to hire Stoner initially and can see the bigger picture.
"When we told them that we were going to hire Casey, both they agreed. We mustn't forget that this year we will not have the chance to test as much as we would like with the official riders. They will be only have five days and we have already used one. Therefore it is important to have strong testers," he said.
Photos via Ducati Corse