Rossi off to solid start in Malaysian heat; impressed by new Michelin front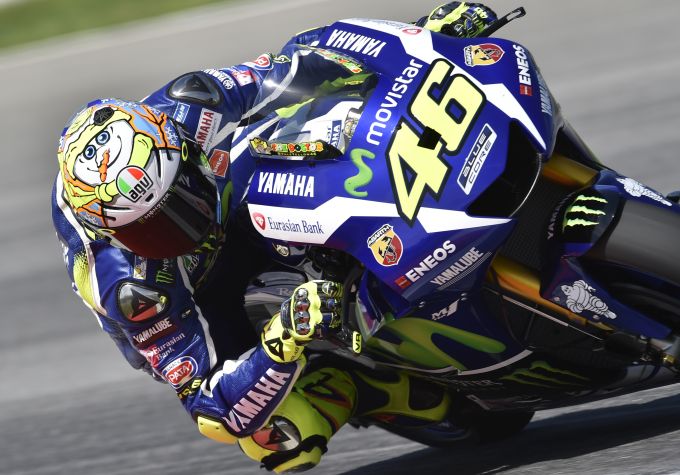 Valentino Rossi got his 2016 season off to a solid start, as he bids to go one step further than 2015 and claim the historic tenths MotoGP World Championship.
 The Italian who recently admitted it took a lot of time to get over the bitter disappointment of 2015, didn't show any ill-effects of last season as he took to the track and was an early leader of the timing sheets, before his team-mate surpassed him and would remain untouched for the rest of the day.
 Whilst lap-times were important to the Italian, he was busy working on his 2016 M1, testing three different machines on course to completing 55 laps around the extremely hot and humid Sepang International Circuit, managing a best time of a 2'01.717 which was just over a second behind Lorenzo and six tenths ahead of third placed Dani Pedrosa.
 Despite finding himself over a second behind his team-mate and title rival, the Doctor wasn't too concerned with what was happening on the other side of the garage, instead more focused on what was happening on his side.
"The gap to Lorenzo is too big, but it's also true that he was stronger than everybody else, so he was able to have a better rhythm," said the nine-times World Champion.
"On the other side, my position is not so bad and we worked a lot on the bike. It's just the first day and the total count will be at the end of the third, but we have a lot of things to do."
 2016 sees a new chapter in MotoGP. Gone are the Bridgestone tyres and factory electronics packages, as they're replaced by Michelin tyres and a standard Magneti Marelli ECU. The new Michelin tyres came under some immense criticsm after causing multiple front end crashes during the post-season tests. Riders were left complaining about a lack of warning from the front before being thrown down the road.
 As one of the few riders who was racing when the French company were last in MotoGP back in 2008, many had tipped Rossi to have an advantage over some of the younger riders who have only ridden Bridgestone's, and he was happy with the progress Michelin have made with their front tyres over the winter.
"I'm quite happy because the electronics already work quite well," he said. "We're not at the same level as last year, but it's already good to ride the bike and especially the Michelin front tyre improved a lot, so the feeling when you ride the bike is more similar to last year. These are the two important issues."
Despite getting through 55 laps, Rossi did admit he is still not much closer to deciding what M1 he would like heading into the new season. The Doctor did reveal that he posted his fastest lap-time on the bike most similar to his 2015 bike.
"We had three bikes, but one of them was just meant for doing a few laps, it was the old one. We have two 2016 bikes and I did my fastest lap time on the bike that's more similar to the 2015 model, so it's a little bit half and half, but just because I didn't have enough time to work on the 2016. I did only one stint and it wasn't so bad, we will continue tomorrow and see.
 "Our first issue for this test is to decide which one, so tomorrow we'll try to get a better understanding."
 The testing continues at 2am GMT tonight from Sepang. Live coverage of the testing can be watched on the BT Sport app or on MotoGP.com.
Photos via Movistar Yamaha