Aprilia still without 2016 machine heading into opening test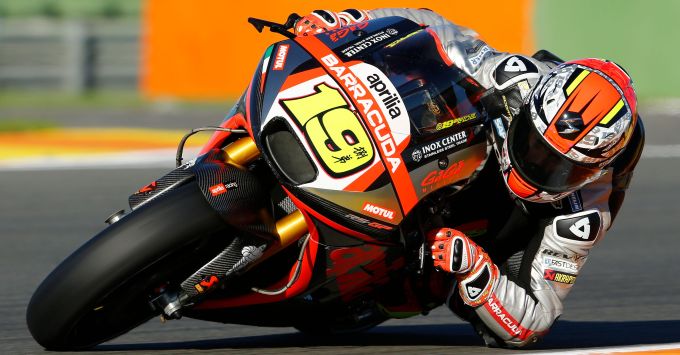 2016 looks set to be another challenging season for Aprilia, as they face the uphill battle of going to the first two tests of 2016 with their 2015 bike. 
Aprilia had been excited at the potential of their 2016 machine with talk from the Aprilia garage hoping that they would be at the level of the Suzuki's or satellite machines in 2016. However with further delays Aprilia will be going to the first winter tests of 2016 in Malaysia with their 2015 RS-GP, before sitting out of the second test of the winter in Phillip Island altogether. 
The RS-GP struggled throughout 2015, with the Noale factory electing to test at each circuit rather than spending a year at arms length from the paddock, much like Suzuki did in 2014. Aprilia knew that 2015 was going to be a learning year, and whilst the end of season test in Valencia saw them struggle once again, there was still an optimism at what was ahead.
Aprilia Racing Manager Romano Albesiano and team manager Fasto Gresini will undoubtedly be disappointed with the delays to their 2016 machine. This year MotoGP moves away from Bridgestone and factory electronics to the brand new Michelin tyres and control Magneti Marelli software, track time with the 2016 machines will be absolutely invaluable as teams gain important data with every lap managed with the new tyres and electronics. 
Whilst factory duo Stefan Bradl and Alvaro Bautista managed to get some data during the end of season test on the 2015 bike in Valencia, the lack of 2016 machine will limit the usefulness of the data gained. 
That being said, Aprilia are going to the Losail International Circuit in Qatar in the middle of February for a private test with test rider Mike Di Meglio joining the factory riders to give the 2016 machine its first run out in anger. It would also give Aprilia a possible head start before the rest of the paddock head to the desert for the final test of the winter in early March, before the lights go out – or on in Qatar – for the season opener just two short weeks later. 
Di Meglio will get his hands on the bike for the very first time when Aprilia take the 2016 RS-GP to Spain for a private test to try and iron out any cobwebs before going to Qatar.
Photos via Gresini Aprilia Factory Racing