Yamaha release their 2016 M1 – With Pictures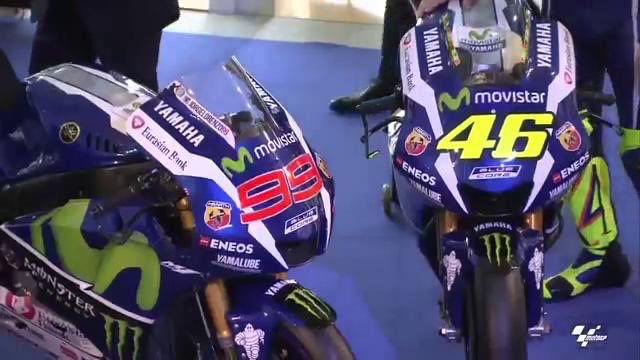 Yamaha have this morning officially unveiled their 2016 M1 bike, during a presentation in Barcelona.
2015 MotoGP World Champion Jorge Lorenzo and his team-mate Valentino Rossi were both on duty as the 2015 Manufacturer and Team World Champions showed their new machine and livery to the expectant MotoGP world.
The 2015 M1 was Yamaha's answer after two dominant seasons from Honda and their RC213V, whilst the 2016 M1 will look to start the new era of MotoGP off in the right way. 2016 will see MotoGP move away from Bridgestone tyres and instead run Michelin tyres. As well as a change in tyre supplier, all teams will also be running standard Magnetti Marelli software. 
Both Lorenzo and Rossi was just off the pace of the Honda's and behind the incredibly impressive Maverick Viñales on his factory Suzuki. Both Honda riders have tipped the Ducati to be dangerous next season, meaning Yamaha will have their work cut out should they wish to replicate the success of 2015. 
There had been speculation that this new machine has suffered from Yamaha not being able to give it their undivided attention with the 2015 season unfolding as it did. Jarvis and Yamaha however refute these suggestions, insisting they're happy with where the bike is.
A new part Yamaha have been testing is having their fuel tank behind the rider, rather than in the middle of the bike as they bid to improve rider stability
The new M1 once again uses the Yamaha blue and white combination whilst being sponsored by Movistar and Monster Energy. There had been question marks over what number Jorge Lorenzo would use this season, but he has stuck with his 99. Whilst Valentino Rossi of course will run the yellow 46. 
The Yamaha team will be in action in two weeks time when the winter testing ban is lifted and the entire MotoGP paddock heads to Sepang for the first official test of 2016.