Lorenzo: A lot of Rossi's fans have no respect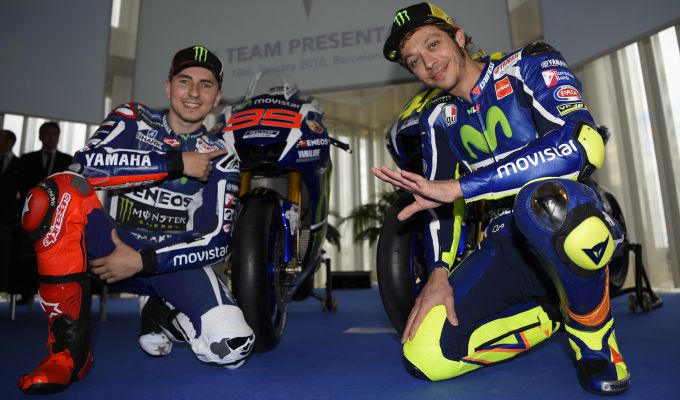 Jorge Lorenzo has said that his team-mate and bitter rival Valentino Rossi needs to teach his fans about respecting other MotoGP riders.
The Spaniard has always been on the receiving end of some rough treatment from fans of the Italian since his first stint sharing the Factory Yamaha garage with him back in 2008, but the rivalry intensified to arguably its strongest at the climax of the 2015 season, where he pipped the Doctor to the 2015 MotoGP World Championship. 
During Monday's release of their 2016 M1 in Barcelona, the pair publicly shook hands in front of a packed room of assembled media. Undoubtedly an order from Yamaha with the big bosses in from Japan, however it appears not all of the wounds have healed. 
Despite Lin Jarvis denying there being a chance that they would erect the wall after the rivalry reached boiling point last season, the Italian did sound like there were some hard feelings when speaking on Monday.
 Whilst Jorge Lorenzo had previously apologised for his 'thumbs down' gesture in Malaysia, he himself didn't appear overly willing to move on from the events of last season. Whilst speaking afterwards, Lorenzo went on to talk about Rossi's fans and some of their behavior towards him.
"Only Rossi fans have doubts about whether I deserved to win the title or not," he said after lifting the cover on his 2016 machine, according to SuperNews.
"He is a very important rider, much like Michael Jordan is to basketball. But his fans have made a big mess and a lot of them have no respect. Valentino should make them understand what it means to respect someone.
"I have always been cold and never let it show as making me uncomfortable. I'll have to learn to live with these insults on social media."
Lorenzo and Rossi will be able to let their talking come on the track when the paddock heads to Sepang in just under two weeks time for the first pre-season test of 2016. 
Photos via Movistar Yamaha