Valentino Rossi: It's Yamaha or retirement in 2017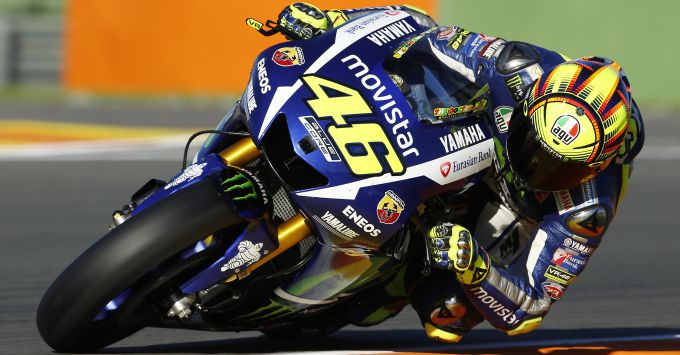 Nine-times World Champion Valentino Rossi admitted that should Yamaha decide not to renew his contract at the end of 2016, then he will retire from the sport, rather that ride for another manufacturer next season. 
Valentino Rossi is one of one of eighteen MotoGP riders out of contract at the end of the 2016 season, and with the Doctor turning 38 in 2017 pre-season, there is a very real possibility that this year could be the last year Rossi races in MotoGP.
However, the manner in which Rossi ran Lorenzo so close in the 2015 MotoGP World Championship means his retirement is anything but a forgone conclusion. He did however admit that he wouldn't consider a contract from any team other than Yamaha.
"No [I won't keep on racing if Yamaha don't renew my contact] I believe I will finish my career with Yamaha, because I think it would be the right thing to do," Rossi told the Italian media during the launch of his 2016 Yamaha M1 in Barcelona on Monday afternoon.
Rossi is in his second stint with the Japanese factory. After leaving Honda at the end of 2003, the Italian enjoyed seven illustrious years between 2004-2010 which saw him win four MotoGP World Championships in that time, Rossi then left for a two year stint with Ducati, before returning to Yamaha for the 2013 season. 
"But if I want to continue racing in MotoGP, then I hope that they [Yamaha] will give me a bike," said the 36-year-old.
There were some Día de los Santos Inocentes stories – Spanish April fools day celebrated on the 28th of December each year – which said there was a chance Rossi would join Pedrosa in the Suzuki factory in 2017, although that was never a possibility.
Today's launch also gave Rossi and Lorenzo a chance to clear the air after their ugly end to the 2016 season. With an emphasis on team-work and collecting data as a unit, Rossi and Lorenzo shook hands in a bid to put the ugly events of 2015 behind them. 
"I have always respected Jorge. Although in my opinion, he didn't [respect me] during the last few races of 2015. I hope the respect this year will come from both sides," he said. 
Despite somewhat clearing the air with Lorenzo, Rossi was less than willing to make up with the man he beleives cost him the illusive tenth World Championship.
"Haha, I don't know [If I will shake Marquez' hand in Malaysia] but luckily Marc is not in my team, so I don't have to shake his hand."
Photos via Movistar Yamaha