Crutchlow backing Pedrosa for title tilt in 2016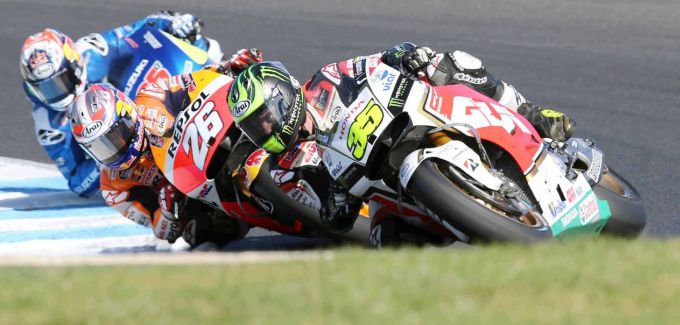 LCR Honda rider Cal Crutchlow believes that fellow Honda rider Dani Pedrosa will be the man to beat in 2016. 
With MotoGP going through one of it's biggest technical changes in recent memory, there is an air of uncertainty around the 2016 season. The introduction of the brand new Michelin tyres, combined with the new Magneti Marelli electronics means that riders will be faced with a whole host of new challenges, as well as trying to constantly improve and deal with each other out on track.
The Michelin tyres have already proved to be the topic of intense debate during the final two tests of the 2015 season in Valencia and Jerez. The new tyres have very different characteristics to those of their Bridgestone predecessors, with there being a lot less grip at the front. The Bridgestone was famed for their front tyre grip, allowing riders such as Marquez to slam on the brake and trust the front to stick in the middle of the corner. Over thirty crashes over the five days showed riders that the new tyres simply will not offer the same front end grip, meaning all riders will have to adapt to the new French rubber. 
One of the riders most visibly frustrated with the lack was Briton Cal Cruthclow. Crutchlow is from the Marquez school of riding where he will brake heavy, trusting the front end to stick whilst he drove through the corner. The new tyres are meaning Cal, like most will have to change his style. He did however reveal who he is backing for next season with the changes that've been made. 
"From what we saw in the Valencia test, I think that Dani Pedrosa will be the favourite for next season," he said whilst talking to solomoto.es.
"Why? Because thanks to his weight [51 kg] and his riding style, he's putting less weight on front under braking, unlike everyone else," he explained.
"Dani also has experience with Michelin and the times he did in Valencia he was fastest easily. He will be the man to beat next year."
Photos via LCR Honda