Marquez: Stoner releases these statements to be talked about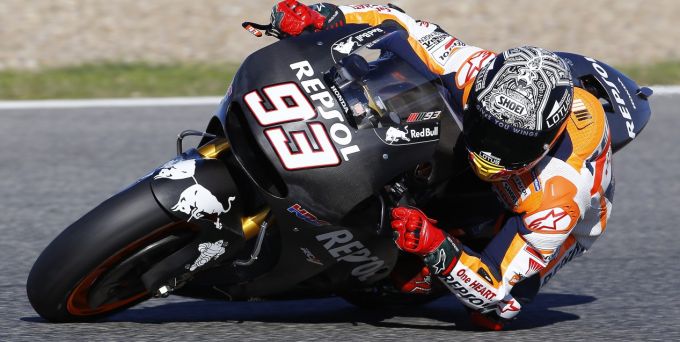 Marc Marquez has dismissed comments made by Casey Stoner that he "felt threatened" by his presence; claiming the Australian "occasionally releases these statements just to be talked about."
The Spaniard has endured a surprisingly rocky relationship with the man he replaced in the Repsol Honda team back in 2013 through the past three seasons. Marquez admitted to GPxtra during his rookie year that he had barely spoken to Stoner since taking his seat, before questioning Stoners ability as a test rider. 
With Stoner now moving into his new role as Ducati test rider, he couldn't resist a dig at Marquez, by saying that he thinks the current Repsol Honda star felt threatened by his presence within HRC. "I think Marquez and all his entourage felt threatened by me. I don't know why they thought that, but that's my feeling," said Stoner. 
Marquez however, was quick to dismiss these allegations from Stoner, claiming that he beleives Stoner will sometimes say things, just to be talked about. 
"I think Stoner occasionally releases these statements just to be talked about. So I will not play ball," Marquez told reporters (including Marca), whilst in action at the Catellolí Circuit in Barcelona, doing promotional work for Honda.
Marquez also used the opportunity to comment on the news that a section of his Italian fan club will be boycotting this season's Italian Grand Prix in Mugello, due to safety concerns of their members. The Spaniard has said that it's a sign of the times, but he hopes that nothing happens to those fans who do make the trip to Tuscany. 
"We have reached a point of no return," he said. "I hope and believe that nothing will happen, but sometimes social networks have these effects. Anyone can say whatever they like from behind a computer. True fans go to the races, and I hope they can enjoy it.
"Thankfully nothing happened in Valencia, but it is very difficult to stop."
In just two short weeks time, Marquez and the entire MotoGP paddock will return to the scene of the defining moment of last season. They will begin three days of intense testing at the Sepang International Circuit in Malaysia. Whilst there will be eyes on both Rossi and Marquez, the Spaniard knows he has a lot of work to do with the new Michelin tyres and standard electronics, if he wants to be competitive at the season opener in Qatar.
"In the first race I know it will be difficult to have everything in place and 100%," said the 22-year-old. "The Ducati's are working well and at the first race can cause an upset and go on and win races."
Photos via Repsol Honda