Iannone and Ducati fastest in during day one in Qatar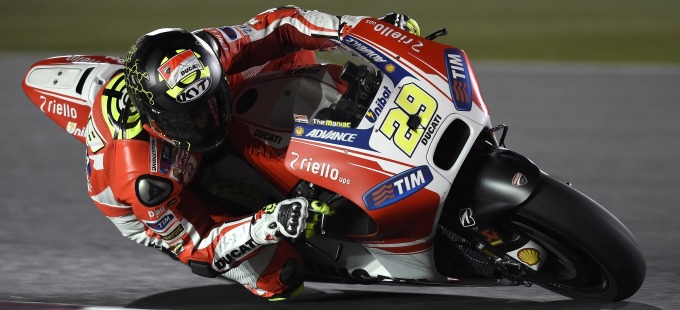 Newly recruited factory Ducati rider Andrea Iannone ended the first day of the final pre-season test in Qatar, fastest, ahead of his team mate Andrea Dovizioso. 
Both Ducati riders were once again testing the brand new Ducati GP15, and with milage still required, the duo completed 98 laps under the floodlights. Iannone was the fastest of the two, posting a lap time of 1'55.265 on his 30th lap of the evening. Dovizioso was just a tenth slower, with a 1'55.363. 
Whilst both fastest laps were completed on the GP15, the GP14.3 was on hand if required. Despite having the super soft tyre available, both Iannone and Dovizioso said that they completed their fastest laps on the medium tyre, available to every bike that ran this evening. Despite many of the riders and teams testing and trailing this evening, it's something Iannone finds positive during the first day of testing. 
"For sure it was a positive first day, and we are learning more and more about the Desmosedici GP15 and its reactions," Iannone said after the circuit closed for the night.
"Today we carried out the schedule we had planned at the start of the day and we managed to get through everything we had to do. Now our engineers will have even more information to evaluate the situation, and in any case we were always quick.
"I am happy because we are improving every time we go out onto the track."
His team-mate echoed the sentiments of Iannone, happy meeting the targets and plans set by the team, with the bonus of finishing second fastest a nice ending to the day. 
"I am very satisfied with this first day here in Qatar, because we immediately got off to a fast start and this is always important," said Dovi.
"For sure we still have a lot of work to do because there are a few aspects of the GP15 that we have to improve before we arrive at the race, but I am happy with the base settings we have established here.
"Tomorrow we'll do some important tests to better understand our new bike, but as I said before today was a very positive start."
Both Iannone and Dovizioso will be back in action tomorrow night to continue the test, with possibly more longer runs with rain forecast for Monday in Doha. 
Photo credit Ducati Course