Casey Stoner: Valentino ruined his own championship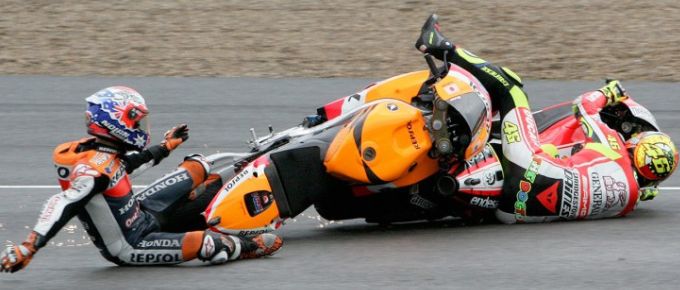 Casey Stoner has said that he beleives Valentino Rossi cost himself his tenth World Championship, refusing to lay the blame on the shoulders of Marc Marquez. 
The Australian who is currently still away enjoying his holiday in the United States of America will make his highly anticipated return to Ducati during a two-day test at the end of the month, before possibly getting back on board the following week during the first official test of 2016, alongside the full-time MotoGP riders.
Earlier this week, he denied that he will be making a full time return to MotoGP, hasn't be shy in forthcoming about his opinions of the 2015 season. 
Stoner was of course famed for his high profile rivalry with Rossi during his time in MotoGP. The infamous corkscrew overtake at Laguna Seca in 2008, was followed by the claims from Rossi's then crew-chief Jerry Burgess that claiming he and Rossi could fix the Ducati front end issues in 80 seconds. The most memorable moment of Rossi's failed Ducati career also involved Stoner when he a crash in Jerez prompted the Australian to utter the words: "Obviously your ambition outweighed your talent".
Stoner said that Rossi had a fantastic 2015 season, surpassing everyones expectations of him, although he thinks the right man ended up winning the MotoGP World Championship, virtue of the wins he accumulated over the season. 
"Valentino rode a fantastic championship, I don't think anyone expected him to ride at that level from the first race. But there's no doubt that Jorge was a worthy champion. Jorge rode better and won more races," the 30-year old said in an interview on Motorcycle News.
"There is only one stat that counts. Valentino has only been pushed to the last round of the championship twice and he has lost it twice, under pressure at Valencia in 2006 and this year.
"Valentino always won his championships with a big points margin or with at least one race to go, but this year Jorge had the momentum going to the final rounds. Even without Valentino's rear-of-the-grid penalty in Valencia I think still think Jorge would have won the title," he said.
"I understand why Valentino was frustrated at Sepang but he lost his cool. I expected to see a wiser head on his experienced shoulders. Valentino ruined his own championship."
Photos via MotoGP.com