Casey Stoner returning to Ducati for 2016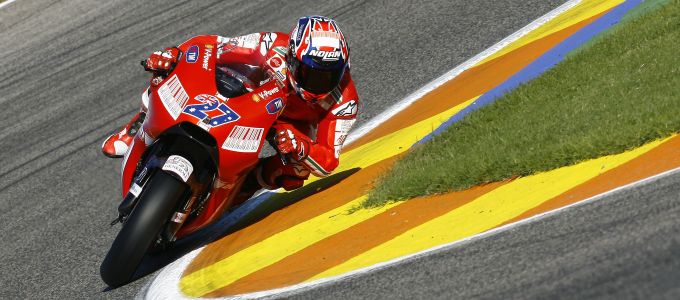 Casey Stoner will leave his testing duties at HRC and return to the Bologna factory in a testing capacity in 2016.
The 30-year-old Australian rode for the Ducati factory bike between 2007-2010 claiming 23 wins on way to his first MotoGP World Championship in 2007. Stoner left Ducati at the end of 2010 before spending two years with the Repsol Honda team winning his second MotoGP World Championship before his shock retirement in 2012.
Stoner continued to work with HRC sporadically as a test rider and made a one-off appearance during this season's Suzuka 8 Hour, a race he crashed out of due to a mechanical fault of the Honda Fireblade he was riding.
Rumours started last month that Stoner could be in-line to make a return to MotoGP with Ducati in 2017 as a full time rider, but today in Valencia, Ducati all-but confirmed that his return will come next year as a test rider, with a view to wildcard races.
Stoner grew disillusioned with the lack of perceived appreciation from Honda after being overlooked to stand in for Dani Pedrosa earlier in the season with the Spaniard forced to sit out the American and Argentine rounds recovering from arm-pump surgery. He is said to be upset with a lack of feedback and opinions given with Marquez questioning Stoner's ability as a test rider.
Stoner has a contract with HRC until the 31st of December, meaning any official announcement or confirmation from Ducati will have to wait until 2016.
"Let's say that Casey has been a hero for Ducati and won many GP races and a world title for us in 2007," said Ducati Sporting Director Paolo Ciabatti.
"He obviously moved to Honda and has been working for Honda but is still in the heart of Ducati fans and has a good relationship with many Ducati people, so let's see what the future brings.
"We know that the contract with Honda is expiring at the end of this year and if there is a chance to do something together we would love to do it."
2016 pre-season testing will see an official three day test at Phillip Island, a track that Casey Stoner won for six consecutive years.